Elemi International Schools Publisher
We are an independent publishing company set up to serve the needs of international school learners and educators in English-medium IB curriculum schools. We put these needs at the heart of our custom-made resources.

Why use resources published by Elemi?
Our resources are developed with international students' needs in mind. To make sure we get this right, we talk to teachers, we ask questions of teachers, and we actively listen to all teacher and student feedback.
We only develop resources for international schools, so examples and images relevant to international school students are used throughout.
All our resources are carefully written in English that can be understood by all students – ensuring those whose home language is not English can achieve their very best in English-medium assessments.
We work with authors who are excellent classroom practitioners, and who really understand the challenges international students face.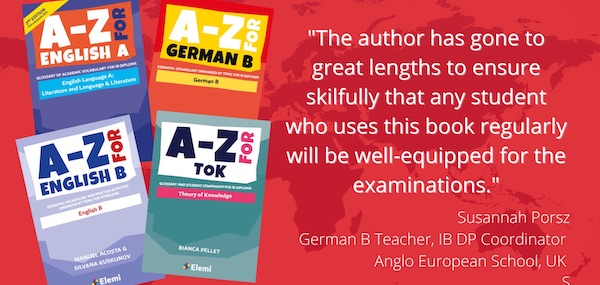 Titles available:
A-Z for English Language A: Literature and Language & Literature
A-Z for Theory of Knowledge
A-Z for Maths: Applications & Interpretation
A-Z for French B
A-Z for Spanish B
A-Z for German B
A-Z for English B
A-Z for French Ab Initio
A-Z for Spanish Ab Initio
To see all our titles – and view sample pages:
Be social – join us:
Facebook:@ElemiIntSchPub
Twitter: @Elemipublisher
LinkedIn: https://www.linkedin.com/company/elemi-isp