International Institute in Geneva
s a Swiss foundation of higher education, the International Institute in Geneva (IIG) offers international high-quality academic standards with dual European and American accreditation and is ranked among the best business universities in Switzerland.

Proven accreditation and strong partnership links allow all undergraduate students to graduate with two Bachelor's degrees simultaneously from the University of Plymouth in the UK and IIG in three years without leaving Geneva. At the master level students have the opportunity to complete a double degree with the University of Plymouth and with Boston University.

The Institute offers a range of Bachelor, Master and PhD programs in:
Business Administration & International Management
International Trade
Business Analytics and Artificial Intelligence
International Relations and Diplomacy
Digital Media and Communications
Computer Science
2 intakes per year: September, February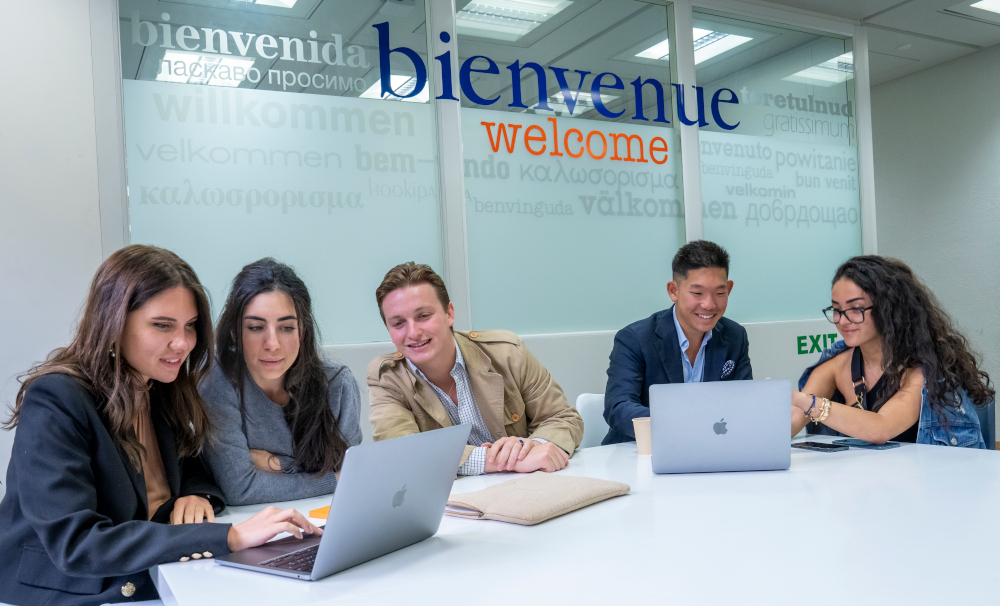 IIG students are getting internships and job offers in the following International companies:
UNICEF – UNITED NATIONS – WORLD ECONOMIC FORUM – WORLD HEALTH ORGANIZATION (WHO) – WORLD INTELLECTUAL PROPERTY ORGANIZATION ( WIPO ) – WORLD TRADE ORGANIZATION ( WTO ) – WORLD METEOROLOGICAL ORGANIZATION (WMO) – CERN – CREDIT SUISSE BANK – UNION CARBIDE – SANTANDER – CANADIAN GOVERNMENT – CATERPILLAR - DELL COMPUTER - ELIZABETH ARDEN - ERNST AND YOUNG – ESTEE LAUDER – THE ECONOMIST GROUP – THE GLOBAL FUND – HEWLETT PACKARD – HSBC BANK – ΙΑΤΑ – INTERNATIONAL TRADE CENTER – MERRILL LYNCH BANK – MICHAEL PAGE INTERNATIONAL – MISSION OF QATAR – MORGAN STANLEY CAPITAL – MOTOROLA - NATIONAL BANK OF DUBAI – NOVARTIS – ORANGE COMMUNICATIONS – L'OREAL – PATEK PHILIPPE – PEPSICO EUROPE – PRICEWATERHOUSECOOPERS – PROCTER AND GAMBLE – REUTERS – SAATCHI AND SAATCHI – SITA – TETRA PAK – UBS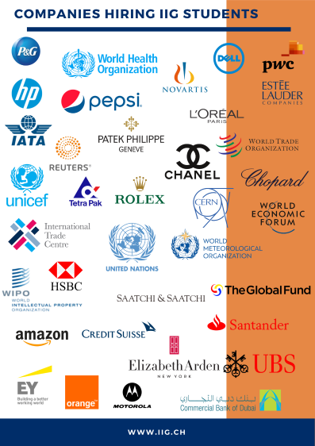 Contact
Email: bachelor@iig.ch I master@iig.ch
WhatsApp: +41 79 836 45 01
OR simply book an online appointment at the best suitable time.
Social media
Instagram: intl_inst_gva
Facebook: International Institute in Geneva - IIG
YouTube: IIG Videos