Applying an interdisciplinary approach to art
Posted on 30th Jan 2023 in School News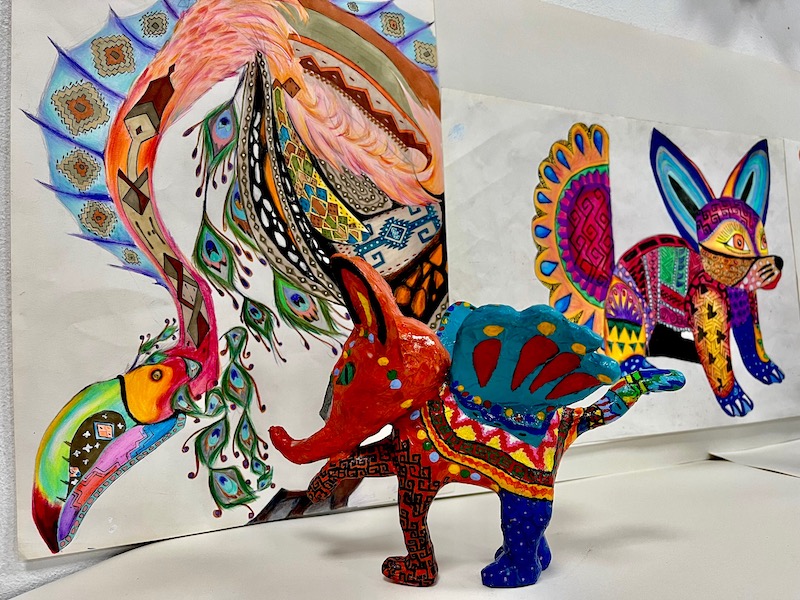 Ms Vasavi Koka, art teacher at Greenfield International School, emphasises the importance and benefits of using an interdisciplinary teaching approach to the arts.
Interdisciplinary learning is a wonderful way to enrich learning in many subjects, but especially in the visual arts because it allows students the opportunity to connect the subject matter to their own experiences and to other areas of the curriculum. It helps students to see the relevance and subtle connections between different subjects which in turn, contribute to a more holistic understanding of the theme. Moreover, interdisciplinary learning can help to foster creativity, critical thinking, and problem-solving skills.
It is for this reason, that I chose to teach this bespoke unit through the lens of interdisciplinary learning to provide students with a deeper understanding of the cultural, historical, and social context of Oaxacan art. It was apparent from the outset, that our students had developed a strong artistic voice by connecting the subject matter to their own experiences and wider perspectives.
The inspiration behind this project:
During the summer I spent time visiting the beautiful and vibrant state of Oaxaca, Mexico. During my travels, I discovered their iconic, whimsical sculptures which have now become synonymous with Mexican visual culture and in particular, Oaxaca which is often referred to as the heart of Mexico. I was captivated by the intricate patterns, surreal animal designs and weird and fantasy like juxtapositions so I decided to create a scheme of inquiry which focused in depth, on these unique works of art. 
To begin their creative journey towards understanding the complexity of these imaginary creatures, Grade 9 students in Greenfield International School began studying the rich symbolism and iconography of ancient Zapotec art which has influenced Alebrijes sculptures. The Zapotec patterns represent the elements of nature that had great importance to the ancient people of Oaxaca and continue to have a strong visual impact in Oaxacan visual and material culture to this day.  
After carefully scrutinising different Zapotec patterns and researching Alebrijes sculptures, the students spent time improving their drawing skills by learning how to draw and shade a toucan. Their next task was to design a hybrid animal that is rare and unique, featuring at least one Central American or North American animal such as a toucan. They were asked to incorporate elements such as horns, antlers, wings, fins and sometimes all at once. Once they were happy with their design, they chose to add startingly vibrant colour markings, featuring a plethora of detailed patterns such as stripes, dots, geometric shapes, flowers, and flames.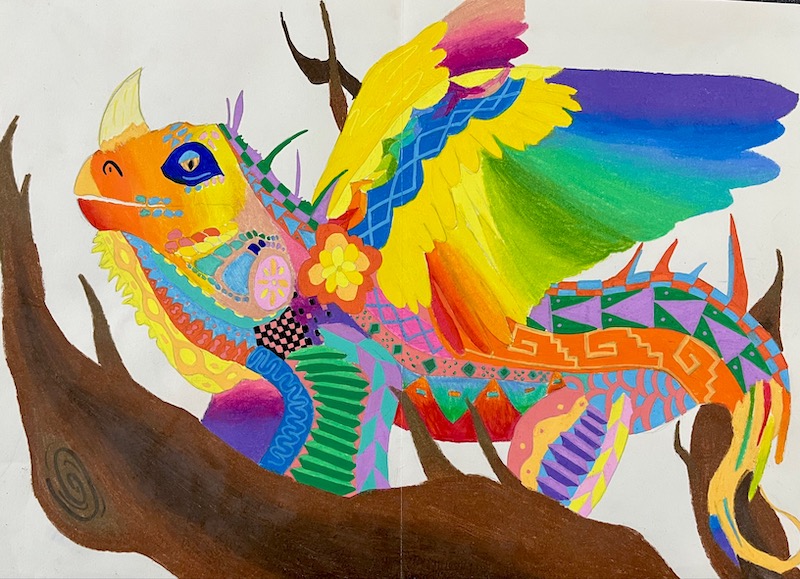 The students enjoyed contextualising their work in this vibrant style but enjoyed the element of freedom that enabled them to create their own theatrical response. They have been motivated to think creatively and laterally and this is reflected in their astonishing and complex designs. The pieces they produced, evoke questions such as: how do cultural thoughts and ideas shape creativity and innovative thinking? The tangible, kinaesthetic experience of working with different artefacts and primary source material enabled students to understand material investigation, and how different cultural artworks and subsequent styles can inspire and provoke a creative reaction.
The contrast between surrealism and ancient Zapotec tradition is a conversation that emanates through much of the work. The striking hybrid animals created by our students, feature elaborate and ornate patterns, that will be showcased in school. The works will hopefully engage viewers with the question of the role of art in shaping, renewing, and preserving cultural traditions.