Being a Management, Philosophy & Economics student at Frankfurt School
Posted on 29th Jan 2018 in University Study, Germany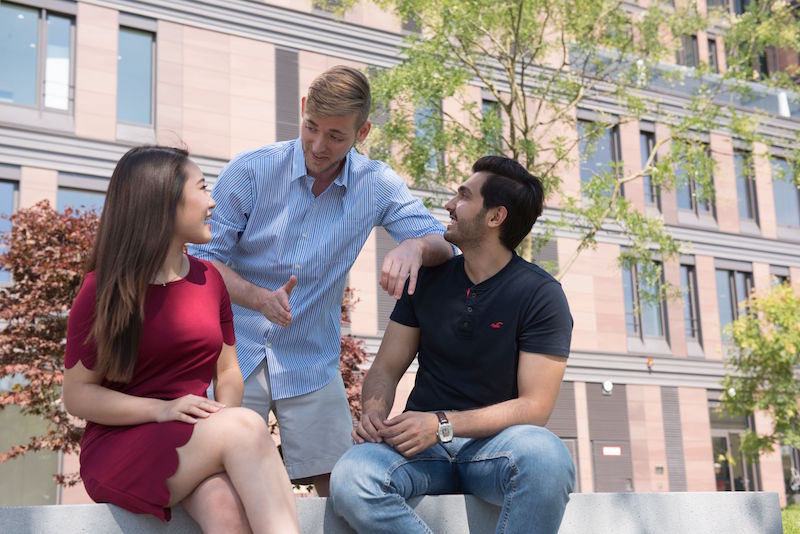 Which students study Management, Philosophy & Economics and what's the program about? Fabian Aymanns provides some answers...

As I recently graduated from my Bachelor of Science in Management Philosophy & Economics (MPE) at Frankfurt School of Finance and Management, I will attempt to answer this question and give you an overview about the challenges and opportunities, which come with this program.
I will start off with a simple question, what´s different about the concept of this program?
Management, Philosophy & Economics comes from the Oxford undergraduate degree course Politics, Philosophy and Economics (PPE) and if I am not mistaken, it was Prof. Kliemt who created this program and implemented it at Frankfurt School. Apart from Frankfurt School, only one other university in Germany offers a similar class – The University of Bayreuth.
So without a doubt, the program is rare and as you can imagine, you get asked quite often to briefly explain the program. This is a huge advantage especially in job interviews since you have something that makes you stand out. You will acquire the same competencies, which you would have developed whilst studying International Management. Plus besides this, you will gain insights beyond the regular management topics.
Quite often I was scrutinizing the sense of this during my studies. But in the end I even wrote my Bachelor thesis about a topic behind regular management – The consolidation of different corporate cultures as a basis for the successful design of Mergers & Acquisitions. As the world becomes more and more complex, we face new conflicts in business, politics and our society. The added complexity of this program can bring you ahead, especially when it comes to analyzing interdisciplinary topics and obtaining an overview of given situations.
The kind of skills and intellectual thoughts you are equipped with will help you solve current problems from various perspectives, instead of going the normal way in developing the right solution.
So what makes an MPE-Student different?
The biggest difference, which I recognized over the years, is that MPE-students are more willing to step outside their comfort zone and bring themselves into the Frankfurt School community to make an impact. These special commitments and engagements can be found in many CV´s from MPE graduates. Last year, four out of ten members of the Student Council were MPE students, as well as many initiative heads. Personally, I was involved in several initiatives and committees over the years. For example, I have been in the Frankfurt School running team since my first semester and have successfully represented my university at seven sport competitions. I was an active member of the Model United Nations Initiative and accompanied them to New York to represent the Russian Federation in the United Nations Population Fund at the National Model United Nations 2013. Moreover, I was actively engaged in the Frankfurt School Ambassador program since my second semester and in the Frankfurt School Student Council since my sixth semester.
Furthermore, there are some differences in the internships and working student positions typical MPE students will hold during their Bachelor studies. This can be combined with the question, how is Management, Philosophy & Economics affecting your further career and what opportunities come with this?
Generally, you still have every opportunity open. The course description states that you will be, "thoroughly prepared for a successful career in companies, associations, political parties and other organisations", and I see it in the following way. Due to the origin of Frankfurt School as a "Bankakademie" and the previous focus on Finance and Banking, wherefore the school is famous, a lot of students aim for a career as an Investment Banker, an Asset or Fund Manager or in a Private Equity Firm. MPE students are typically more willing to explore avenues in Consulting, Startups and other industries as their beginning step. Nevertheless, if your goal is a career in Investment Banking, you could gain all the required knowledge in the advanced study phase in your sixth and seventh semester. During this period you are, with some restrictions, free to concentrate on the topics you are interested in.
Fabian Aymanns
Fabian is enrolled in the Master in Management Programme. Before starting his Master's degree he graduated from our Bachelor of Sciences in Management, Philosophy & Economics Programme. Moreover, he is strongly engaged as the speaker of the Frankfurt School Student Council, as Senior Ambassador and as a member of several committees on campus.