Bring your whole self to Bromsgrove
Posted on 3rd Feb 2023 in School News, United Kingdom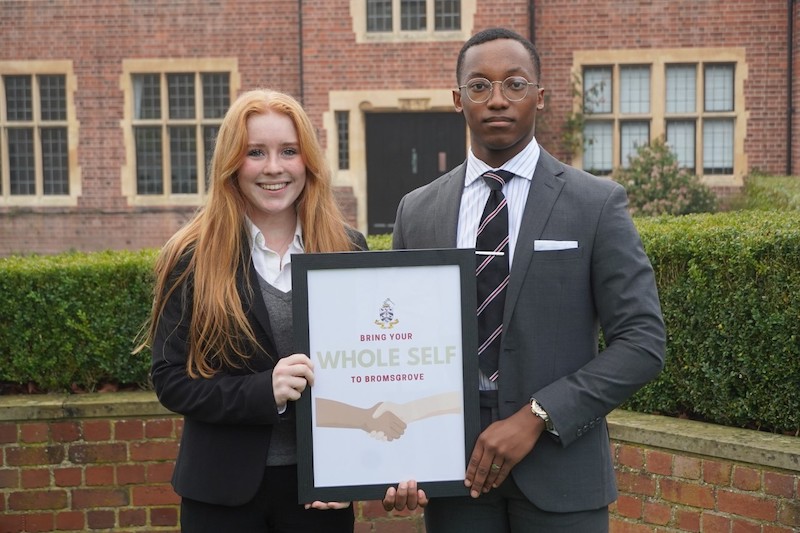 Upper Sixth pupils, Thando Best and Jess Whitlock, both of whom are the Heads of Bromsgrove School, have worked incredibly hard to launch their new initiative, 'Bring Your Whole Self to Bromsgrove' (BYWSTB). The key aim of this initiative is to educate the school community on equality, diversity and inclusion – raising awareness and celebrating the rich community we are so lucky to have.
Miss Zia Leech, Director of Wellbeing, says: "From what started as a conversation during lockdown has developed into an incredible project that aims to encourage everyone to feel at home whilst at school. As a school that welcomes over fifty-five nationalities, each individual is different, and this should be embraced."
Jess and Thando realise that this is a long-term project, laying the foundation in their final year, and their aim is to hand the baton on to younger pupils. The eventual aim is to extend the project to include Bromsgrove Pre-Prep and the Early Years sections of the school, manifesting a whole school ethos.
The BYWSTB project has been approved by the Governors, and work has begun on dates for talks on issues such as mental health in the lead up to Children's Mental Health Week in February, a LGBTQ+ Society and a topical issues 'book club' for all year groups. Jess and Thando are encouraging open conversations in safe spaces to counter the concerns of 'cancel culture' and embrace the concept of the 'positive bystander'.