Discover University of Glasgow's International Summer School
Posted on 3rd Dec 2019 in University Study, United Kingdom, Summer School Tweet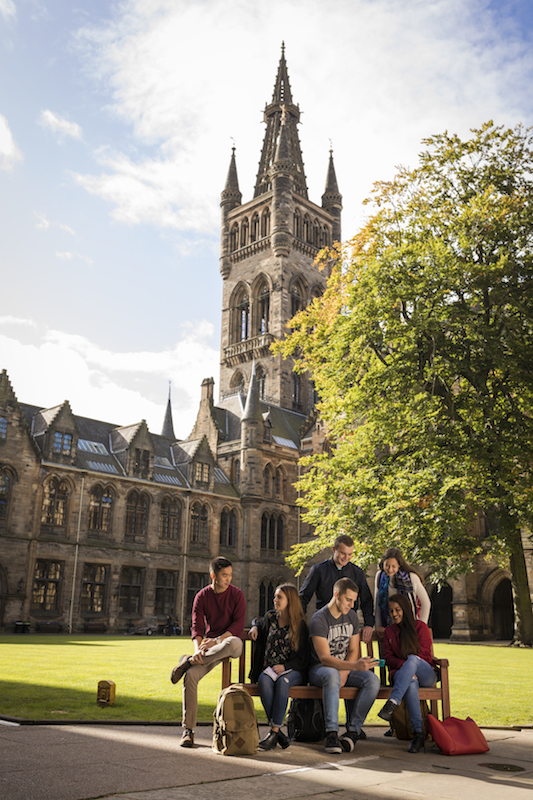 Are you considering your subjects for the IB Diploma? Are you interested in studying Medicine, Veterinary Medicine or Life Sciences at a World Top 100 University?
The University of Glasgow is launching a unique Pre-University International Summer School, hosted by the College of Medical, Veterinary and Life Sciences in 2020. Our credit bearing International Summer School program enables high school students to choose from three distinct pathways to prepare for a career as a Doctor, Veterinarian or Scientist. Our Veterinary Medicine and Life Sciences tracks provide the opportunity to gain a conditional offer to the University of Glasgow upon completion of the summer school. Furthermore, the students will experience what it is like to study at an international university and engage with staff who can help guide and inform them about their chosen subject as well as career paths and key opportunities.
The IB is a qualification that is highly regarded and recognised as undergraduate admissions criterion to our degree programs. This means that IB students are eligible, and are qualified, to apply for direct access to Veterinary Medicine, Medicine or many of our disciplines in Life Sciences without the need to do (or complete) an undergraduate degree first. Due to the nature of the Scottish degree system, professionally accredited subjects like Medicine and Veterinary Medicine are undergraduate courses and are 5 years in duration. Upon graduation students are qualified to practice in their respective field. Interestingly, for those students studying Veterinary Medicine, their qualification from the University of Glasgow is dual accredited meaning they are qualified to practice in the UK and the USA.
The Pre-University International Summer School invites applications from those students who are on track to graduate in the summer of 2021 from high school, beginning their University career in the fall of 2021.
Successful applicants will spend Summer 2020 at the University of Glasgow returning to their school with a conditional offer to begin their studies in the fall of 2021 at the University of Glasgow, if they so choose, in either Veterinary Medicine or Life Sciences. Those students who wish to pursue the Medical track will receive 10 university credits and are encouraged to use their Glasgow experience as a key element in their application to medical school
The University of Glasgow recognize and value the IB as a qualification. We are seeking to raise awareness of opportunities that enable students to engage in their careers and embark on their professional work after the completion of their undergraduate studies.
Our applications opened on the 1st of November, information on how to apply is available on our website.
The School of Medicine, Dentistry & Nursing aspires to be world-class, to generate and sustain excellence in education and research in a friendly, supportive, stimulating academic environment.
Ranked 3rd in the UK for Medicine, 1st for Nursing and 1st Dentistry*, our prestigious school leads the UK with important innovations in teaching. Part of the College of Medical, Veterinary and Life Sciences, the school is dispersed over the university main campus and teaching hospital sites across the West of Scotland.
Glasgow Undergraduate Medical School has enjoyed an international reputation for excellence since the first professor of Medicine was appointed almost 400 years ago. We aim to be the highest performing Undergraduate Medical School in Scotland and a leader in the UK, internationally recognised for the excellence of the Glasgow medical graduate, the high-quality research led teaching and the superb clinical training environments in which our students are immersed. We aim to provide the Glasgow medical graduate with a holistic mix of knowledge and skills as well as the flexibility, resilience, curiosity and compassion that will ensure they are fully equipped to thrive in 21st century biomedicine and to deliver the highest standards of medical care and clinical research throughout their careers.
The Undergraduate School of Medicine at the University of Glasgow is one of the largest medical schools in the UK. Our innovative and forward-thinking curriculum is delivered through a range of teaching styles which include small group teaching, problem-based learning, lectures, vocational and clinical studies, labs and e-learning. Our students gain experience of a clinical environment from year 1. The MBChB follows a 'spiral curriculum' where subject material is revisited at different stages of the curriculum with increasing depth and clinical focus.
Medicine has been taught at Glasgow since 1751, and the University of Glasgow has a long history of outstanding achievements in medical science. The City of Glasgow and surrounding West of Scotland provides unrivalled opportunities for medical training, and our students will benefit from state-of-the-art facilities at the Queen Elizabeth University Hospital, the largest teaching hospital in Europe.
Glasgow medical students undertake two periods of elective study, and can select from over 20 intercalated degree options, allowing flexibility to study areas of personal interest in more depth. Our award-winning Wolfson Medical School Building offers students 24-hour access to library facilities, and a first-class clinical skills suite.
*Complete University Guide, 2020