Education – the world's global language
Posted on 23rd Nov 2017 in International Schools, International Baccalaureate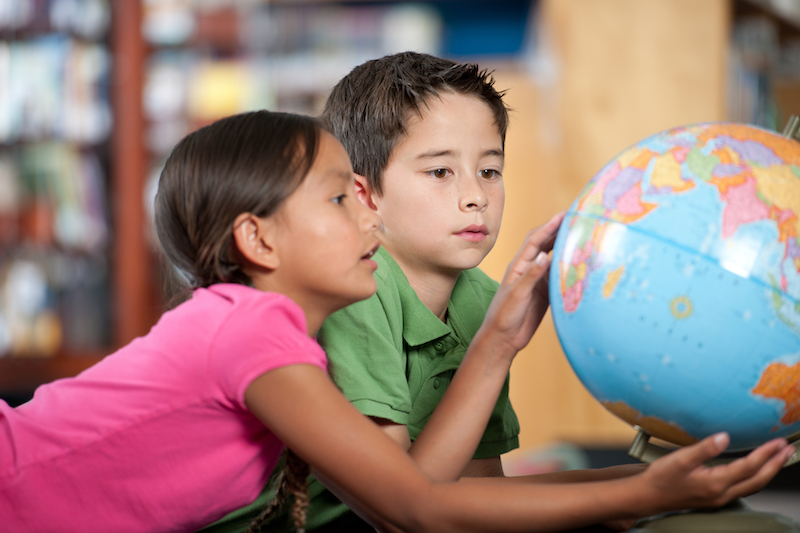 Jane Drake, Head of Curriculum Innovation and Alignment at the International Baccalaureate (IB), says that an IB education gives students a global outlook that helps them make sense of world events and feel inspired to fight for a brighter future...
How are today's youth assimilating and understanding current affairs? They hear daily analyses of the actions of governments across the world, the plight of international refugees, terror threats, and environmental challenges. If they are being exposed to these events and current affairs for the first time, perhaps they are able to question why and how something is being represented in the media as it is, and to critically analyse news for themselves. Or do they find themselves uncertain and unable to uncover truth from spin? After all, that is a skill we can all find difficult when immersed in the daily clamour of our media. How do we help one another to approach these issues with both clarity and compassion? To strive to understand the complex systems within which our actions unfold and live compassionately in the choices that we make? As educators, it is our job to nurture these capacities.
The Global Education Monitoring Report 2016 by UNESCO – commissioned to monitor progress towards the education goals in the United Nations (UN) 2030 Agenda for Sustainable Development – highlights the need for a major transformation in education to enable future generations to meet the challenges facing people, and the planet. The UNESCO report shows the potential for education to be the propelling force in achieving all of the 2030 UN's global goals, by promoting specific national and international strategies in relation to education.
The discussion around what makes for an effective education has been debated for decades but few would dispute that across the globe we need to raise young people who are well prepared for life in an inter-connected 21st century, able to contribute to a better, more peaceful world.
This is the driving principle behind everything that IB World Schools do: 'education for a better world'. The IB aims to develop young people who not only have the capacity, but also the motivation, to create a better and more peaceful world through intercultural understanding and, even more importantly, respect. Compassionate and capable individuals. A unifying thread throughout all four IB programmes is the IB Learner Profile – which is the organisation's mission statement translated into a focused set of learning outcomes for students to develop during their courses. For instance, learners will become risk-takers, effective communicators, and inquirers. The learner profile inspires, motivates and focuses the work of schools, teachers and students alike.
Young people benefit from an education that has a strong international dimension, drawing from cultures around the world. IB students study a broad range of subjects with special emphasis to learning languages, and a learning style that encourages students to become responsible, active members of their community; and focuses on developing skills for learning. Students learn to empathise with others, value diverse perspectives and cultures, understand how events around the world are interconnected, and solve problems that transcend borders; they learn to explore both sides of a story.
Today's students will be the global leaders of the future. They will require insight into people and cultures across the world, and an unprecedented concern for the well-being of the world community. Thankfully, many educational systems around the world are gearing themselves up for catering to a greater global consciousness – but there's still a long way to go.
The key will be to develop international-mindedness. International-mindedness is a world view in which people see themselves connected to the global community and assume a sense of responsibility to its members (humans, other living things and the planet). It is an awareness of the inter-relatedness of all nations and people, and recognition of the complexity of these relationships. Internationally-minded people appreciate and value the diversity of cultures in the world and make an effort to learn more about them. They exhibit personal concern for all people, and this manifests itself in a sense of moral responsibility to other people, and a commitment to the values of a community. They are also aware of both the immediate and long-term consequences of human behaviour on the environment and on global societies.
So what should educators be teaching to ensure that all students are prepared and equipped to successfully engage with, and positively impact, the globalised world in which we live?
Evidence suggests that a generation able to apply knowledge to challenges and think laterally to find solutions will achieve this vision. Curricula designed to offer a holistic education is an optimistic alternative to most educational offerings. Education really is the world's global language; a unifying thread that brings individuals and countries across the world together. Syllabi should be relevant to the student's local context, but curricula should all share a common goal, too. The world is crying out for an approach to education that is in tune with each child's unique needs and skills, and one that prepares the child to become a well-rounded adult and global citizen.
Schools that have a rich tapestry of cultures are uniquely positioned to be role models of good practice to other schools, by taking the lead in setting an example as to how to educate students towards international-mindedness; through an education that reduces ethnocentrism, increases knowledge of other cultures, and promotes a concern for global environment issues.
If we are to give our young people a fighting chance to make sense of world events, and to feel inspired and equipped to pursue the goals set out in the Agenda 2030 of peace, partnership and prosperity – for people and the planet – then we need to offer a globally-minded education from which students will emerge confident and capable to build a future we all want to live in.
For more information about the International Baccalaureate please visit www.ibo.org