EU Business School opens its third campus building in Barcelona
Posted on 20th Oct 2023 in School News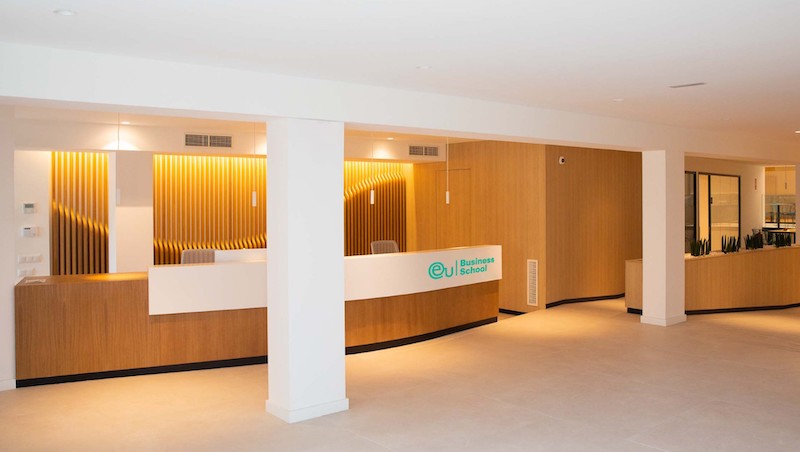 EU Business School (EU) is excited to announce that it will open its third campus building in Barcelona, Spain, in Summer/Fall 2024, allowing it to consolidate its position as a leading international education provider and accommodate its growing student body of 100+ nationalities. The building, located in Calle Osi in the privileged district of Sarria-Sant Gervasi close to the marvellous park Jardins de Villa Amèlia, has 4,000+ m2 , and is opened in addition to the school's current campus buildings situated in Avenida Diagonal and Calle Ganduxer. With its opening, the school will have over 10,000 m2 on which to offer its educational services.
EU has ambitious plans for the new property in Calle Osi which it will convert into a state-of-the-art sustainable campus building unparalleled in facilities and design. This project is supported by the unique format of the premises. Consisting of two edifices of four and six floors respectively joined together by a large communal ground floor, the property will be reformed into 26 spacious classrooms, an auditorium for conferences, specific areas for group work, student lounges, a cafeteria, meeting points and digital spaces, among others. The building also offers four large outdoor terraces which will allow students to relax between classes. EU has contracted the services of a renowned Catalan studio specialised in environmental projects and new space design, to help it realise its remarkable plans.
Carl Craen, managing director of EU Business School expressed his satisfaction on signing the agreement: "After a lengthy search, I am delighted to have found the ideal location and property for our third campus building in Barcelona. This opening of this new campus pays testament to our growth and commitment to offering a top education to our international students. Calle Osi will provide a perfect study environment for our students, and I am looking forward to welcoming them on campus in the coming academic year 24-25."
For more information about EU Business School, please contact the communications department at +34 93 201 81 71 or communications@euruni.edu. Alternatively, you can visit the EU Business School's website at www.euruni.edu.