High praise and scores for Haileybury IB pupils
Posted on 12th Oct 2022 in School News, Diploma Programme, International Baccalaureate, United Kingdom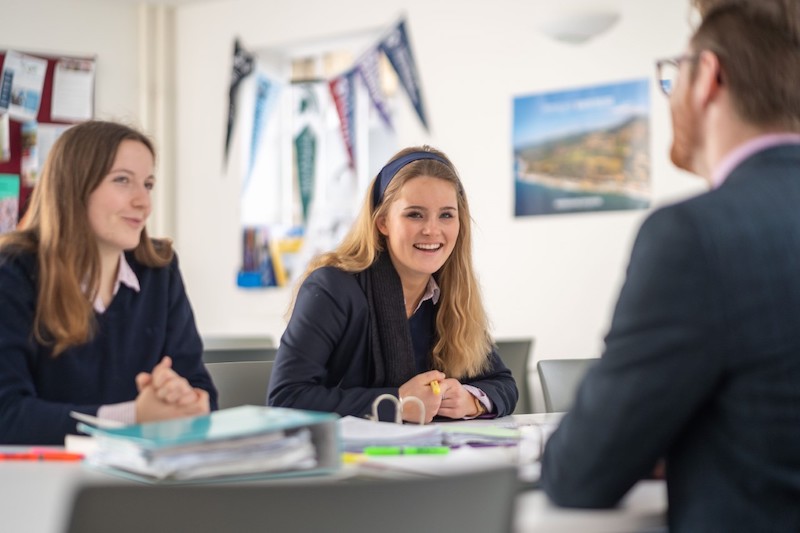 Haileybury is extremely proud to share the notable achievements and efforts of all their International Baccalaureate (IB) Diploma Programme pupils. In spite of challenges presented by the pandemic, Haileyburians went on to receive high scores for the 2021-22 academic year. Below, Stephen Campbell, Deputy Head (Academic) details their impressive results.
Our IB pupils have worked exceptionally hard whilst studying for their Diploma and we are delighted that their efforts have been rewarded.
Haileybury pupils achieved an average score of over 38 points. This is more than eight points higher than the worldwide average of 30 points, and is equivalent to 5 A grades at A level. Given the context of the previous two years, we could not be more proud of their achievements.
Lilibet Philpott and Ariana Gureja achieved full marks in their Diploma, scoring an exceptional 45 points; this score places them in the top 1% of all pupils worldwide. Madeleine Aves, Hadrien Moortgat, Luca Sfragara, Anastasia Tikhturova and Christina Vitrenko secured 44 points. 30% of Haileybury pupils were awarded a prestigious Bilingual Diploma, demonstrating their dedication to expanding their language profiles.
This year was our biggest IB cohort yet, with more than 50% more pupils taking the IBDP at Haileybury in 2022 than in previous years. These results are testament to the efforts of pupils and their teachers in a period of many challenges. They should justifiably be proud of their achievements and we look forward to seeing what they will achieve in the future as they join universities in the UK, US, Italy, France and Germany, to name but a few.
The Master, Martin Collier, commented: "This is an excellent set of results, especially given the context of the past two years. Our International Baccalaureate Diploma Programme (IBDP) pupils have worked very hard indeed and they deserve their success. This was one of our largest IBDP cohorts ever; these results stand as testament to the fact that the IBDP is flourishing at Haileybury. Lastly, I would like to pay tribute to the teaching staff whose dedication and considerable expertise has made this impressive set of results possible."
IB Co-ordinator, Abigail Mash, reflected: "It has been a pleasure to work with such a fantastic cohort and to see their hard work rewarded. Our pupils have shown determination over the course of the last two years and these impressive results are a fitting conclusion to their time at Haileybury."