How a state-of-the-art Science Center has pushed TASIS's IB program to new heights
Posted on 12th Oct 2016 in School News, International Baccalaureate, Switzerland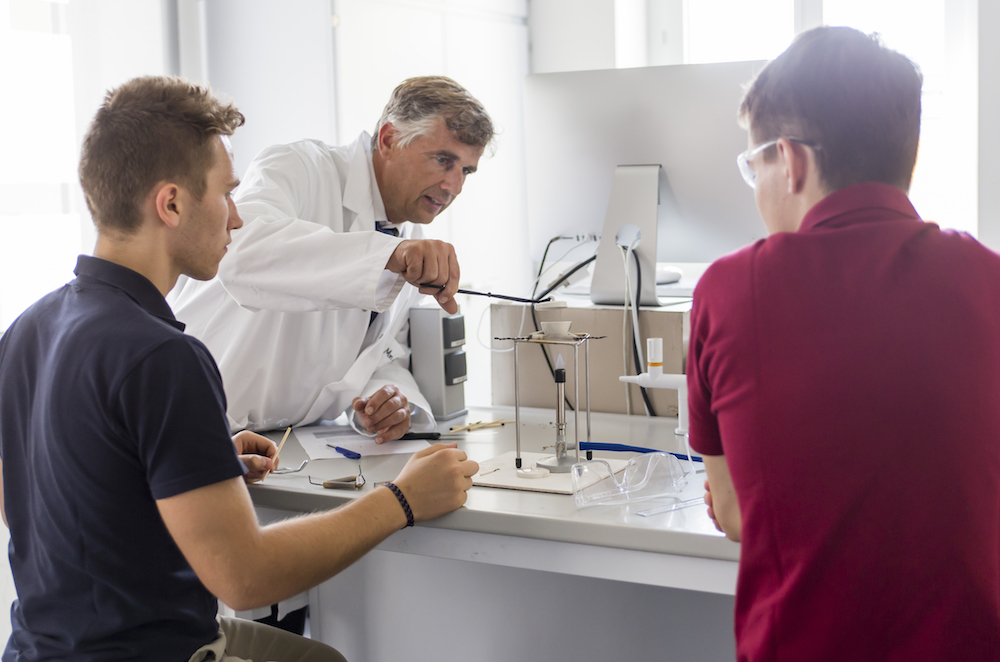 A combination of great teachers, an inventive curriculum, and first-rate facilities has made The American School in Switzerland (TASIS) a very attractive destination for science enthusiasts. It wasn't always this way.
"I think we've put science very much on the map here, which it wasn't, to be honest, a number of years ago," said High School Science Department Chair Alec Ogilvie (pictured with IB chemistry students). "It was done in the basement down in Villa De Nobili, and people didn't come here to do science particularly, and now I think you could say that you can, and do—that you can come here and do really well in science, particularly if you're interested in this area."
The transformation was years in the making, but science began to really take off at TASIS when the Campo Science Centre – a state-of-the-art facility boasting two classrooms, three preparation rooms, and eight purpose-equipped laboratories for chemistry, physics, environmental sciences, biology, and general science – was added to campus in the fall of 2014.
Ogilvie was involved in the process of designing the labs, and he consulted all the middle and high school teachers to see exactly what layout they preferred for their lab and how they wanted to equip it. "As a result, we have individual labs that fit perfectly for each subject," he said. "And the middle school labs are outfitted with portable desks so that they can create whatever space is needed for the particular unit they're working on."
Dr. Prash Sinnathamby, the third and final member of the Middle School Science Department, primarily teaches physics and chemistry to eighth-grade students, and the versatility of his laboratory has allowed him to pair virtually every lesson with a hands-on experiment – from physics experiments on speed, leverage, pressure, conduction, and convection to chemistry experiments designed to study combustion, displacement, electrolysis, and oxidation.
"The kids are very engaged," said Sinnathamby, who earned a doctorate in Chemistry at Durham University and started at TASIS in 2012 after serving as Head of the Department of Chemistry for a grade 7–13 school in the UK for two years. "They keep asking me to do experiments. They come in, and the first question I hear is, 'What are we doing today – are we doing an experiment?' And because of the experiments, the visuals, and the demonstrations, they are able to actually better understand the concepts and the ideas, and they're also able to link it to daily life and see the bigger picture."
Sinnathamby's experiential approach has resonated with students who concede that they had only a passing interest in science before starting eighth grade.
"My favorite part of class is the experiments because you can actually understand how the science works," said Josh Hassan.
"I like how Dr. Sinnathamby explains what we're going to be learning about first, and then we do the experiment and it helps us understand the lesson," added classmate Angelica Fabiani.
Much like the Science Department's innovative approach to teaching, the new center has done a great deal to generate enthusiasm in students of all ages.
"When middle school students walk into our labs at the beginning of the year, or when elementary school students come up to visit for Shadow Day, they often do so wide-eyed," said Dr. Brett Merritt, who chairs the Middle School Science Department. "Thanks to the generous support of our donors and the dedication of many hard-working people, we've been able to create an educational space here at TASIS where our students walk into a science classroom and it's not really a classroom – first and foremost, it's a laboratory. It also happens to be a classroom, but students feel deep in their bones that it's a place where science happens."
The science center has dramatically changed the trajectory of a department that desperately needed a facility worthy of its innovative and ambitious group of teachers.
"The Campo Science Center has made all the difference in the world," said Merritt. "Before 2014 we did not have a proper laboratory space in which to teach our 6th grade students. We taught them in a classroom with no running water, no sinks, limited storage, and only two or three electrical outlets. Try doing an Engineering and Invention unit when you can only plug in a few electronic devices. It would have taken days of logistical planning and a lot of backbreaking work to deliver such a curriculum."
Teachers who were already excellent are now reaching new heights.
"I feel like Campo is pushing our science teachers to be as good as the building," said Merritt. "It's pushing our creativity, it's pushing our dedication, and it's pushing our abilities to grow into a building that we know can handle just about anything we wish to do."
Three well-equipped preparation rooms enable teacher – often with assistance from Olymar Marco Brown, a full-time lab technician – to prepare their lessons outside the classroom and safely store whatever they need. They also serve as a valuable space for High School students to work on their Individual Assessments, a critical portion of the International Baccalaureate (IB) science exams.
The Internal Assessment (IA) accounts for 20 percent of a student's IB science score, and recent changes to the IB have allowed students to tackle database questions in addition to experimental questions. This and other mandates from the evolving IB have prompted the High School Science Department to integrate new units into its curriculum. Dr. Jill Price, for example, has added bioinformatics, a cutting-edge interdisciplinary field that involves the application of computer technology to the understanding and effective use of biological data, to her IB Biology curriculum.
The new building has enabled students to log and analyze large amounts of data much more effectively while also supporting a far broader range of Internal Assessments.
"Our IB students come up with eccentric and wonderful experiments that we've got to somehow support," said Ogilvie. "And we now have the equipment and storage space to enable them to do it, whatever it is – the UV absorption of different sun creams, the aging of wine and the effect on the alcohol content, the different techniques for the extraction of silver, and so on."
Students have responded with two consecutive years of excellent results on the demanding IB science exams.
Following the first full year in the Campo Science Center, TASIS students performed at or above the world average in each of the 2015 IB science exams. Each individual exam is scored on a 1-7 scale, and under Ogilivie's tutelage TASIS students averaged a remarkable 6.0 on the very challenging Chemistry Higher Level (HL) exam – 2.26 points higher than the world average. They also exceeded the world average by 0.47 points in Biology HL, 0.45 points in Chemistry Standard Level (SL), 0.32 points in Biology SL, 0.12 points in Environmental Systems SL, and 0.10 points in Physics SL.
TASIS students followed up with another very strong performance in 2016, besting the world average in Biology SL by 1.06 points, in Chemistry HL by 0.62 points, in Physics SL by 0.45 points, in Biology HL by 0.10 points, and in Physics HL by 0.07 points.
The article above is an excerpt from a feature that can be read in full on the TASIS Blog.
For more information about TASIS, see the school's profile on www.ibyb.org.