How the 'Exhibition' prepares Grade 5 OWIS students for secondary school
Posted on 26th Mar 2019 in Primary Years Programme, Singapore, School News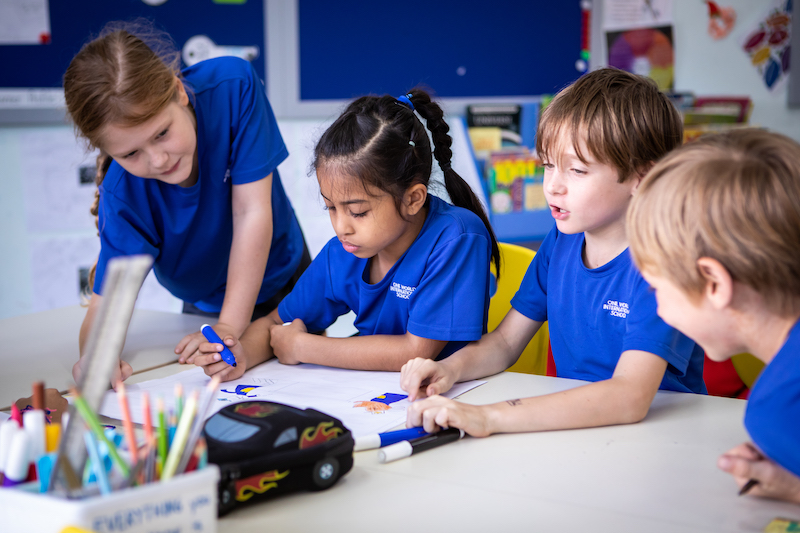 Time-Management. Respecting Others. Accepting Responsibility. These are just a few of the areas of learning Grade 5 students at One World International School (OWIS) will explore during a unit of inquiry (UOI) on 'How the World Works'.
This culminating Unit of Inquiry called the 'Exhibition' is a critical component of the International Baccalaureate (IB) curriculum. Units leading up to the Exhibition are designed to help students form their own understanding of concepts by asking questions about issues related to a central idea.
As these units are transdisciplinary, they allow students to apply their skills in a real-world context, rather than acquiring information specific to isolated subject areas. Working collaboratively in small groups, children will spend the next eight weeks working specifically on their final unit, the Exhibition, generating research questions driven by their skills and passions.
Students are encouraged to take ownership and develop agency of their learning as teachers help to engage them in the inquiry process to guide their lines of Inquiry and driving questions. These queries direct their research as they prepare for the culmination of their final year of primary school, the Exhibition, which is set to take place in late March.
Why is the Exhibition important?
The Exhibition provides a unique, authentic context for teachers to measure how well students have mastered skills and concepts throughout their primary years.
Furthermore, this event has numerous benefits for students. Grade 5 marks the last year of the Primary Years Programme (PYP). Students spend this year sharpening their critical thinking skills as they prepare for the challenges of secondary school. The purpose of the Grade 5 Exhibition is to connect and develop enduring, life-long understandings driven from the key PYP concepts, encouraging students to add to their existing knowledge and explore issues from multiple angles.
The event is open to parents, students and other members of the OWIS community. The Exhibition follows the Approaches to Learning outlined in the new Enhanced PYP framework which has started to be implemented at OWIS.
This component encompasses a wide range of skills that apply not only to all personal inquiries but to learning beyond the classroom. These skills include communication, self-management, thinking, research and social. These abilities are essential for success in secondary school, as students are expected to engage in increasingly complex problem-solving and advanced research.
Besides encouraging students to further cultivate these skills, the Exhibition fosters creativity as students analyse issues from different perspectives across various student-driven inquiries. Students also have the opportunity to see for themselves just how much they've learned as they proudly showcase their talents through presentations of the issues they have researched.
The Exhibition process helps students improve their public speaking skills and gain confidence by presenting to different aged audiences and other international schools. Furthermore, demonstrating what they've learned leads to additional dialogue, personal action and inquiry. Seeking knowledge by asking questions lays the foundation for lifelong learning. Like other aspects of the OWIS curriculum, this process is another important step in preparing students to be critical thinkers and innovators who can make meaningful contributions to our complex, ever-changing world.