IB Diploma Programme students receive their results
Posted on 6th Jul 2017 in Diploma Programme, United Kingdom, International Baccalaureate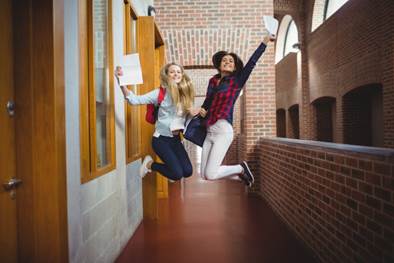 Today almost 160,000 Diploma Programme (DP) students around the world will receive their results from the May 2017 examination session. The number of students receiving their results in the UK is almost 5,000.
They join a community of more than 1.6 million DP graduates in 152 countries worldwide. UK students received an average diploma score of 34.82 points (of 45 possible maximum), with 60 students achieving a perfect score.
"To all Diploma Programme graduates in our May 2017 session, to their IB teachers and IB Coordinators, our heartiest congratulations," said Dr Siva Kumari, Director General of the IB.
"Every six months, we are extraordinarily privileged to witness what you have collectively achieved to meet some of the highest international learning standards in education. The IB's preparation for entry to higher education is second to none and, in recognition of this, the world's finest universities welcome DP graduates as academically well-prepared humanists, who will make mindful contributions to our world today and in years to come."
"These effects are also confirmed by independent studies, so we know that the IB increases students' academic achievement, and the probability of high school graduation and college enrolment. Other independent studies prove that our students are well-prepared to succeed in post-secondary study. And, perhaps most importantly, they are set to make important and inspiring contributions to their communities, and will help achieve the IB's mission of education for a better world. I wish them all good luck and best wishes for a future we know they will tackle with energy and ingenuity."
UK student, Meggy Hartwright, today attained 42 points in her DP, she said: "I am absolutely thrilled with my results. It is so fulfilling knowing that all the hard work has paid off and I can now progress to the next stage of my life – university! I will be studying Business Administration at the University of Bath and really cannot wait to start."
In this first session of 2017, more than 577,600 examination papers — the largest number since the introduction of the Diploma Programme in 1968 — were processed in 79 languages. Examiners across the world worked together to establish accurate, internationally-benchmarked grading criteria across subjects, and ensure consistency throughout the evaluation process.
IB Chief Assessment Officer, Paula Wilcock, says: "I am delighted to offer my best wishes to all those students receiving their results following a strong commitment to learning and a great deal of hard work. I would also like to thank the many IB examiners from all over the world who work tirelessly to ensure we deliver those results. As we evolve and innovate our assessment practices to give students the best possible experience, I continue to be inspired and motivated by the many professionals who support us in those endeavours."