IB results at AMADEUS Vienna: Well above the world average
Posted on 20th Jul 2020 in School News, International Baccalaureate, Diploma Programme Tweet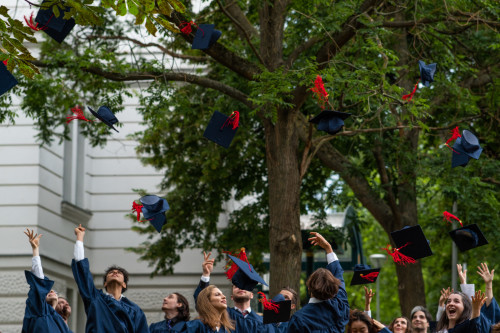 At AMADEUS Vienna (AV) we can proudly share the IB results from the 22 graduates who were awarded an International Baccalaureate Diploma this year.
Despite a long period with an extensive online learning programme, the students have proved that distance is not a barrier if you are motivated to learn. This is one of many things that underpins the Educational Distinction at AMADEUS Vienna.
Our school's mission is to accompany young people as they fulfil their highest potential. At the same time, we find it important to emphasise that 'highest potential' does not necessarily mean 'highest points'. That being said, we are as eager and competitive as all other schools to see how all of the hard work is rewarded. This is especially the case in this unusual school year without the final IB examinations.
With 'language' being one of our seven focus areas, we are pleased to see that this is reflected in the results. One example is our language acquisition performance (Language B and Language Ab Initio). The score for these students was exceptional, with a high percentage of them receiving the highest possible grade (7).
Visit our website: https://amadeus-vienna.com/ib-results-2020/) to learn more about this year's IB Results.