IB success for Victorious Kidss Educares
Posted on 2nd Nov 2020 in School News, International Baccalaureate, India Tweet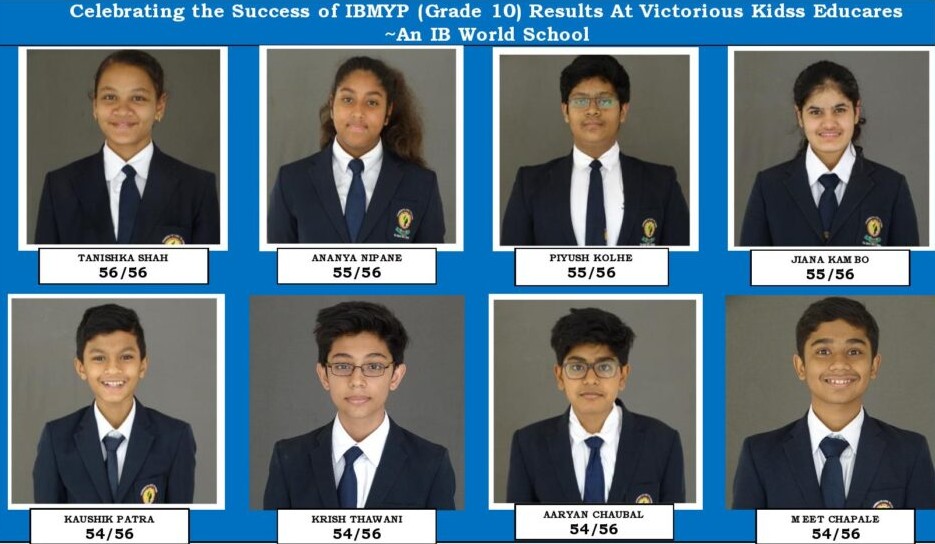 Victorious Kidss Educares are extremely proud to celebrate the exceptional results of their IBMYP and IBDP students. With a 100% pass rate once again, VKE wholeheartedly appreciates and thanks the students, teachers and parents for their dedicated efforts towards this remarkable success.
The school's highlights on this year's MYP results include:
●21 students achieved above 50 out of 56 points (92.22%).
●Two subjects with a perfect 7 out of 7 (100%), as an average score.
●Six subjects with an average score of more than 6 out of 7.
●All the subjects average score being more than 4.
●A special highlight of the results are the 154 perfect 7s (Highest Grade) achieved by the students in various subjects, of which an unparalleled 26 have been in Hindi, 24 in Individual & Societies, 18 in Personal project, 15 in French among many other subjects.
One particular mention must go to MYP student Tanishka Shah on receiving a perfect score of 56 out of 56!
Upon receiving her results, Tanishka was ecstatic and credited her success to the learning experiences at VKE. She commented; 'My journey was the toughest in MYP 5. Handling the pressure of MYP e-assessments, personal project, and e-portfolios was tricky, but because of the mentors and teachers in MYP, nothing could come in the way of me and my dream score. Their dedication and requirement of perfection was commendable, it made me feel more responsible for my projects and helped stay motivated throughout, despite the challenges. I cannot express my gratitude to all the teachers who supported and guided me in even the slightest way.'
Tanishka said that Sir Robbin Ghosh's words 'Believe in your inner power' and 'Always follow the path of truth' have become the two most important mantras in her life.
But the success does not end there! VKE would also like to congratulate the graduating class of 2020 on their brilliant set of results in their IB Diploma Programme examination with a 100% pass rate. These champions have achieved another significant milestone in their journey at Victorious Kidss Educares.
Student Tasneem Godhrawala aced the IBDP examination with a splendid score of 44 points out of 45. She commented; 'VKE has been home since I was a year and four months old. Today, I am sixteen and grateful for all the support and help of my teachers and the school community, who believed in me and pushed me to believe in myself. The diploma program was challenging in many ways, but the skills we developed in the classroom will be beneficial in university and beyond.'
Other achievements include Krishan Glover's impressive score of 43 points out of 45. Yash Kotecha performed remarkably well with 42/45 grade points, and Karan Shah scored 41/45.