Six reasons to study abroad if you want a career in hospitality
Posted on 22nd Jan 2020 in University Study, Switzerland Tweet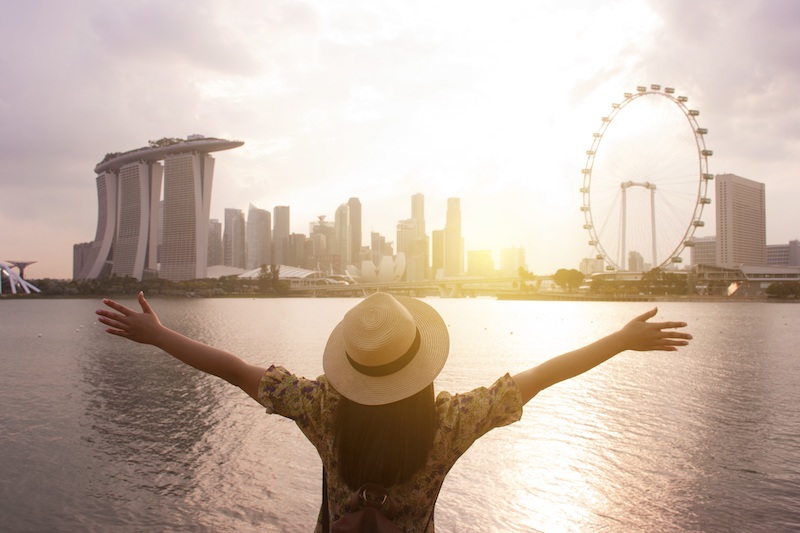 Choosing to study abroad is a big decision – one that can be scary but offers many benefits to students who are willing to take the plunge. What exactly are those benefits, and how do they help build a career in hospitality? Here are six ways that studying abroad will make you a better candidate for hospitality jobs.
1. It expands your world view
Nothing expands your worldview like travel, whether it's in your own country or abroad. While it only takes a moment to be transformed by travel, living abroad, instead of just visiting a country on a vacation, will really expand your worldview.
By traveling, you immerse yourself in new perspectives. This can destabilize the world view you've always had, so it's no longer the right way (or the only way) to do things but one valid option among many. This can make you a free thinker with a flexible approach to whatever life throws your way – an outlook that will turn out to be invaluable in your future career choices in hospitality.
2. It builds foreign language skills
Knowing multiple languages not only makes it easy to communicate with people from other countries, it opens you up to cultures, customs, points of view, and even food.
From a hospitality point of view, multilingual employees are valuable for this very reason: yes, they can communicate with guests from other nations. Beyond that, they're able to make guests feel at home due to the increased cultural understanding that a shared language makes possible.
Regardless of the language (or languages) you choose to study, foreign language skills make you a marketable candidate. While you can always learn in the classroom, there's no substitution for learning language skills on the ground in a country of your choosing.
3. It grows your network
Higher education expands your network of peers and colleagues, something that is increasingly valuable in today's global employment network.
Fellow students, staff, and faculty in a study abroad program provide not only friendship but practical skills that will serve you post-graduation. At the future EHL Campus (Singapore) for instance, students will benefit from a vibrant, active international network of students, staff and alumni who loves making connections.
4. It fosters independence and self-reliance
Independence and self-reliance are byproducts of the college experience, because it's the first time you're figuring things out for yourself, without family to guide you.
Studying abroad, more so than studying domestically, increases your self-reliance and sense of independence, because you are really on your own. This is why people say studying abroad is scary, but when you rise to the challenge, you grow as a person. You may do things you never dreamed you do because you have the opportunity, and this can make you a more confident person as you build your hospitality career.
These skills will serve you in any position by making you an independent worker able to think critically, solve problems, and positively contribute to the organization and the guest experience.
5. It grows hard and soft skills
You'll be learning in your study abroad program, but a classroom education is only part of it. Soft skills, such as leadership or confidence, are developed by the cultural immersion of a study abroad program. Hospitality is a soft skill, too, as countries differ in their perspectives on how to welcome guests!
Combine soft skills with a traditional hospitality education in the essentials of service and business basics and you'll understand the true impact this opportunity could have on jump starting your career.
6. It impresses hospitality industry employers
The economy is global and interconnected. Employers want job candidates who have first-hand experience with diversity and communication across cultures. Consider that, in a survey of 10,000 managers from 116 countries, 60 percent said they valued study abroad experience when hiring.
Among hospitality, the number of hiring managers who appreciate international study abroad experience may be even higher due to the international exposure of a hospitality career. No matter where in the world you work, you will interact with guests from other countries or other regions. By studying abroad during your education you will get a leg up on hospitality majors who have not participated in an international learning experience. When you have the experience that managers want, you are a marketable job candidate. Sometimes job hunting can feel like it's out of your hands, but when you have skills that are in high demand, you bring more to the bargaining table.
So study abroad with confidence in knowing how it can benefit your personal development and career prospects!
MEET EHL NEAR YOU:
Our Admissions Team travels the world to meet with future EHL students and their parents. Find an event near you by searching for your city on our website: click here.
FOR MORE INFORMATION:
More questions? Schedule a personalized appointment by scheduling a meeting with an Admissions Officer or a campus tour with a student ambassador: admissions@ehl.ch.