St. George's International School Switzerland students impress and inspire with outstanding International Baccalaureate results
Posted on 20th Jul 2023 in School News, International Baccalaureate, Diploma Programme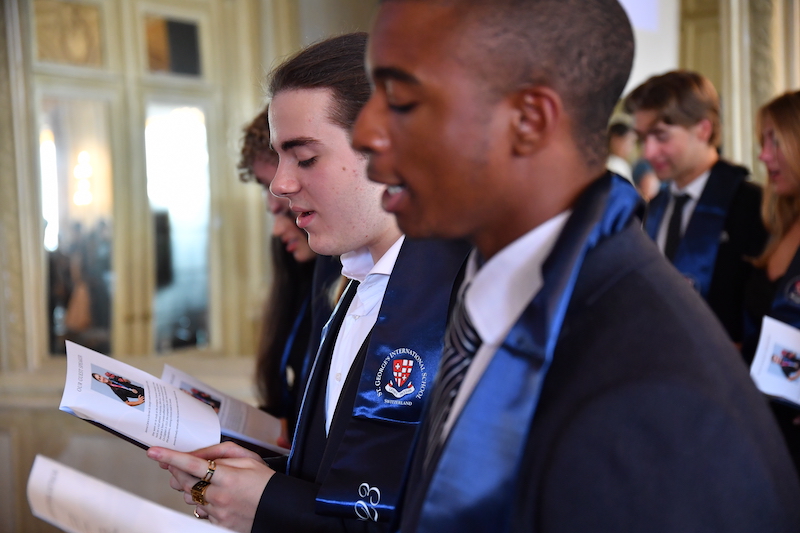 The students at St. George's International School have surpassed expectations, attaining the highest average IB points score in the school's history, with an impressive 37 points. All graduates of St. George's International School achieved a remarkable 100% pass rate on the exam, with the highest score reaching an exceptional 43, surpassing the requirements for admission to prestigious universities including Cambridge and Oxford.
Dr Ruth Norris , School Principal, said: "The highest ever average IB points score in the history of the school under normal examination conditions has been achieved by our 2023 graduating class. This is remarkable! Our talented teaching staff have supported, nurtured, challenged and stretched our pupils to reach their potential. In turn, our pupils have fully committed to the rigour of the IB and can now progress with pride to their first-class university and career choices. We are so incredibly proud of their achievements."
The International Baccalaureate Diploma Programme focuses on developing critical thinking and social skills through academic and personal growth, producing open-minded and confident graduates who are wholly prepared for university life. The programme includes 3 evaluations: a "Common Core" evaluation (Theory of Knowledge, Monograph and the Creativity Activity and Service project), an internal evaluation consisting of six final works and an external evaluation of six final exams. Internationally recognised as one of the most comprehensive and rigorous educational systems, IB graduates regularly gain entry to some of the most prestigious universities in the world.
St. George's International School, as a proud member of the Inspired Group, is committed to preparing its pupils to thrive in a world characterized by constant change, challenge, and diversity. Situated in an inspirational setting between lakes and mountains, the school strives to ensure academic excellence and dynamic qualities. With an academically rigorous and flexible programme, delivered by carefully selected educators, St. George's provides a broad and balanced curriculum that encourages lifelong learning and fosters ambition in its pupils. Through a wide range of enrichment opportunities, including sports, clubs, activities, and projects, the school nurtures and develops the unique talents and gifts of its pupils. As an international school, St. George's places a strong emphasis on providing pupils with the necessary skills to communicate with confidence in a globalised world. Embracing the philosophy of "Levavi Oculos," St. George's International School inspires and empowers its pupils to aspire to greatness, uplift themselves and others, and unlock their full potential for lifelong success.
To find out more about St. George's International School, please visit https://www.stgeorges.ch/