St. Louis School students outperform the global average with outstanding International Baccalaureate results
Posted on 19th Jul 2023 in School News, International Baccalaureate, Diploma Programme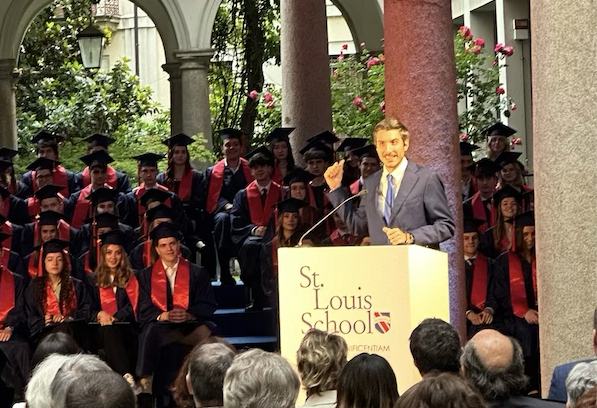 While the global average score of all IB graduates has been 30.24 (out of a maximum of 45 points), St. Louis School students have achieved an impressive average of 36.
The highest score attained was an exceptional 44, surpassing the requirements for admission to prestigious universities such as Cambridge and Oxford
Mr. Gerry Rafferty, Executive Principal, said: "As we reflect on the most recent results for 2023, we have much to be proud of. A total of 115 students have achieved an average score of 36 points, showcasing their academic prowess and dedication to their studies. Furthermore, an impressive 30% of our students attained 38 points or more, illustrating their exceptional aptitude and commitment to excellence. It is truly inspiring to witness such remarkable achievements. The average score worldwide is indeed 30 points for 2023 across a few thousand schools. (2 points lower than last year) I would also like to extend my heartfelt congratulations to the 17 students who attained 40 points or more. This is an exceptional accomplishment, and it reflects the immense effort, intellectual curiosity, and resilience demonstrated by these students throughout their academic journey."
The International Baccalaureate Diploma Programme focuses on developing critical thinking and social skills through academic and personal growth, producing open-minded and confident graduates who are wholly prepared for university life. Internationally recognised as one of the most comprehensive and rigorous educational systems, IB graduates regularly gain entry to some of the most prestigious universities in the world.
St. Louis School boasts a strong foundation rooted in the vibrant Milanese and international community. With an upcoming celebration of its twenty-fifth year, the school takes pride in offering students a unique opportunity to embrace a highly successful blend of the British National Curriculum and the well-established Italian Curriculum. The motto of the school, 'Carpe Magnificentiam', meaning 'take hold of what is marvellous', encapsulates the commitment to providing an outstanding education. With a student body of 1500 across three campuses, St. Louis School believes in offering multiple pathways for learning, catering to students of all ages and stages.
St. Louis School is a proud member of Inspired, a leading global premium schools group operating in various regions across the globe. With Inspired's fresh and contemporary approach to education, which reevaluates traditional teaching methods and curricula, St. Louis School remains committed to providing a dynamic, relevant, and powerful educational model to its students.
To find out more about St. Louis School, please visit https://www.stlouisschool.com/