Student Q&A: Salia Tuulia Aaltonen
Posted on 25th May 2018 in University Study, Hong Kong Tweet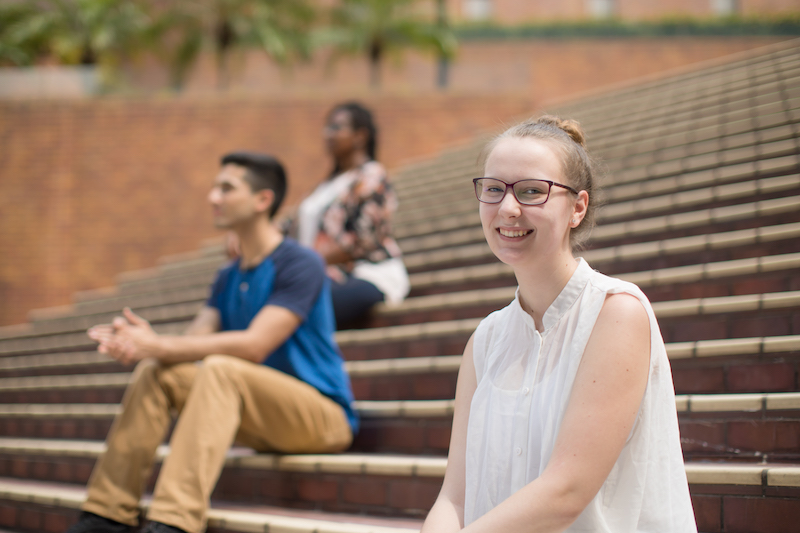 Salia Tuulia Aaltonen, from Finland, is studying for a BA (Hons) in Environment and Interior Design at The Hong Kong Polytechnic University. She was admitted in 2015 and is due to graduate in 2019.
How did you know about PolyU, and what were the contributing factors for your decision to come to PolyU?
Few years ago I had this exchange service company visiting my high school talking about their services and options to do either exchange programs or full time studies abroad. That is when they pointed out the option to study in Hong Kong. At that time I wasn't planning on going for exchange but for some reason the idea of Hong Kong as a place to study stuck with me till it was time to apply for university. I had been here before, so I had some experience on how the city is like but I only became familiar with PolyU through to the established School of Design. From that point onward the decision was pretty straightforward; I would have the chance to study what I wanted in the best schools in the world.
Are you a scholarship recipient? If so, what was your scholarship range?
I was informed about the possibility receive scholarships during my application process. The whole concept was new to me so I wasn't sure what to expect but eventually I was offered a full entry scholarship based on academic performance to cover my tuition fees.
How did you find the study culture, professors, students at PolyU?
Since I went to course based high school system in Finland, coming to School of Design was a change. Instead of playing with your schedule and courses, we have our own group of students sharing the same major working on this core studio course. Basically this means you'll be seeing the same people every single day of you university life. Studio and other courses are a lot of work and I feel like most of the semester goes by just in the studio or workshop, but at the same time I feel like I can put my full focus on the work and get the best possible results. Our tutors and professors provide constant guidance and constructive criticism along the way and you can always approach them with any of your struggles.
Did you get the support you need, both academic and non academic?
Studying design in PolyU differences from other majors in the sense that we have assigned tutors that guide us through our work. So in practice this means that I'll be spending hours every week talking face-to-face with my tutors. The idea is to share issues and obstacles and work around them; usually on the field of design but non-academic worries are not excluded.
What was the best part of being an international student at PolyU so far?
This might sound strange, but I think for me the best part of being an international student is being the only one - at least in Design. There is a community of international students but none of them (that I know of) comes from where I am from. This makes everyone I meet someone from somewhere else. Therefore every single interaction is an opportunity to learn something new or gain a new perspective.
I also enjoy that silent moment when someone tries to spell or pronounce my name. That's always funny.
Any activities/events/competitions/associations you have attended/participated during your study at PolyU?
We have our own events happening at studio. But whenever you walk past campus or student halls, you come across various cultural events, competitions or performances that you can always take a peek of.

How would you describe Hong Kong? And what is the best part of studying in Hong Kong/Asia?
There are so many good words to describe Hong Kong with, but I guess I'm going to go with 'layered'. The city is full of contrast but somehow everything just works well together. There's always something happening somewhere, events to go to and people to meet. You have people from everywhere, which means food, fashion and music from all over the world. Especially food!
Will you consider to participate in exchange program? If so, which destination you are considering/ have applied/ received offer?
I always joked about going back to Finland for exchange and surprise everyone, but that was just for the laughs. I am still interested in traveling and exchange programs, but I feel like I just got myself set in HK that might as well stay here and take the most out of it once I came this far.
Any plan after completing your study at PolyU? E.g. will you consider to stay and explore employment opportunities or go home and reunite with you family and friends?
I'm open for anything. Work life in HK is somewhat infamous for its pace but I know that in here I would be more likely to work on unique and intriguing projects. I guess will see in a year. Maybe I'll go somewhere completely different.
Would you recommend others to come to PolyU as an international student?
Everyone should have the opportunity to experience exchange or what it's like to be an international student. If you have the chance, go with it! Everyone is going to have their own experience but I haven't heard anyone regretting it.