The career path of an IB student
Posted on 20th Apr 2020 in University Study, Germany, International Baccalaureate Tweet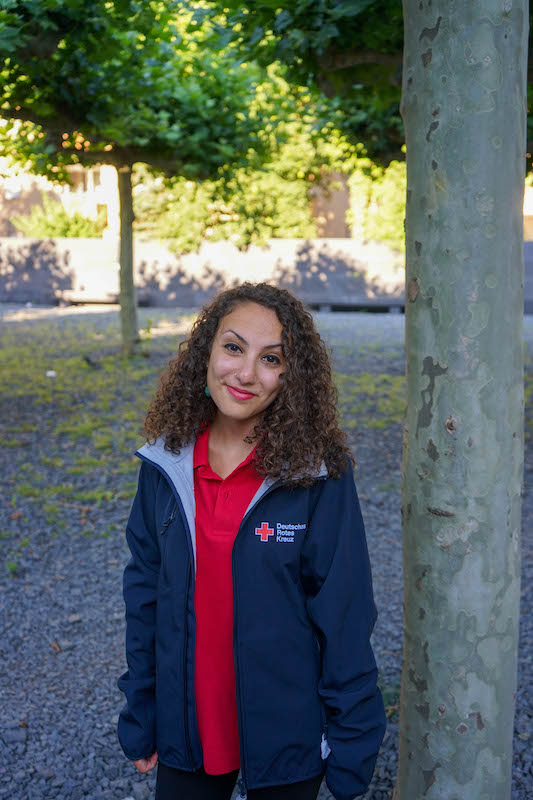 "If I had to describe my job in one word, it would be 'empowering'."
Nada Hashweh is currently a Specialist in Empowerment of Women from Migrant Backgrounds at the German Red Cross based in Frankfurt am Main, Germany. Born and raised in Jerusalem, she has first-hand experience with the ongoing Palestinian-Israeli Conflict. In many ways, having grown up in a region of constant conflict set her up on her career path, which began from Ramallah Friends School, an IB school in the West Bank, which in turn, led her to Jacobs University in Bremen, Germany, and to her career as an advocate for refugees. She cites her volunteer work with the elderly, children and other socially disenfranchised groups at refugee camps in Palestine for her CAS (Creativity, Activity, Service) project as the foundation to her career goals.
"My experiences back home shaped a lot of who I am today – I grew up knowing that I want is to help my people, but when you are young, you don't really know how," says Nada. She also developed an interest for psychology due to personal and observed trauma growing up in Palestine; an interest that stemmed from a will to combat the stigma in Palestinian and Arab culture regarding topics related to mental health, and a curiosity to have a better understanding of how people think. However, she was not able to pursue this academically at her school at the time, as the courses were not offered. Instead, she opted for a more science-focused path, and took Chemistry, Math, and Biology, as well as Arabic, English, and Business. She took full advantage of her time at Ramallah Friends School in other aspects as well, even though she had two to three-hour commutes to school due to checkpoints along the way from her home in East Jerusalem to Ramallah.
"All the teachers knew me because I was the perpetually tardy student," she recalls, while laughing, "They were very understanding though." She was an active participant in Model United Nations, having attended conferences in The Hague and Jordan, and participated in summer programs, which took her to different areas in the United Kingdom. Having met many international students through these activities, she attained an international outlook, which was one of the important factors for her when the time came to consider university options abroad.
"I knew about Jacobs already because my older sister attended this university, and she always only had good things to say about it," she says. She had initially also considered options in the United States, but found that Jacobs University was one of the few options in Europe at the time that offered the study program she was interested in, Integrated Social and Cognitive Psychology, and an international community. The fact that she was also offered a scholarship and a financial aid package along with having access to research and internship opportunities were big pluses for her, which is why she made the decision to attend Jacobs University. She thought the courses she took as part of her study program helped sort out the experiences she had, and provided the foundation to have a deeper, academic understanding of the field of psychology. In addition to having the resources to conduct experiments and living on campus with people from different cultures, she was also able to take elective courses on social issues, such as human trafficking, disability studies, and social inequality, which gave her a broader understanding of society. During her three years at Jacobs University, she also did an internship at a Palestinian counseling center in the West Bank where she worked with professors from MIT (Massachusetts Institute of Technology) and conducted research.
When asked what Jacobs University did for her that she was not expecting, she says, "The people and friends I met at Jacobs opened my eyes to the various ideas and issues related to their culture and countries which gave me a bigger understanding of the world as a whole. My motivation of wanting to help evolved from Palestinians, specifically to helping anyone in need."
After graduating from Jacobs University with a Bachelor of Arts in Integrated Social and Cognitive Psychology, she took six months off to take intensive courses in German, which also gave her some time to reflect on whether pursuing clinical psychology was the right decision for her. She spent a few months doing an internship at the Psychiatric Mental Health Hospital's LVR Klinik in Bonn, Germany, in the Psychiatry and Psychotherapy station.
"I realized clinical psychology was not for me, that I wanted to engage with people more naturally, and build relationships. I knew I could help people in other ways." This brought her back to Bremen, where she started working at Effect gGmbH, an organization that helps refugees integrate in Bremen and the German society. She sees her role there mainly as the cultural bridge between the refugees, who mostly spoke Arabic, and the government agencies, doctors, and personnel working with the refugees, who mostly spoke German. She asserts "It was very important that I spoke German – it allowed me to build stronger relationships with my colleagues and be a better advocate for the refugees I was working with."
Empowerment, conflict management, and integration, especially of a vulnerable target group – women – is a lot of what she is involved in currently at the German Red Cross in Frankfurt am Main, Germany. She continues her work in a very international environment with many people from different backgrounds, who all bring different perspectives to the table, all with the same enthusiasm and drive. She continues to draw from her time at Jacobs even in her life today. She says "Jacobs is the model and the living proof where all the people from diverse cultures and countries not only coexist, but come together beautifully in support of one another. It gives me hope and motivation that the future could be like this for the world, where our differences are not seen as the fuel for destruction and war but rather as a catalyst to bring each other closer."