The International Baccalaureate (IB) and the World Academy of Sport (WAoS) announce support of high-performing student athletes on the eve of the Youth Olympic Games
Posted on 25th Oct 2018 in International Baccalaureate, Sport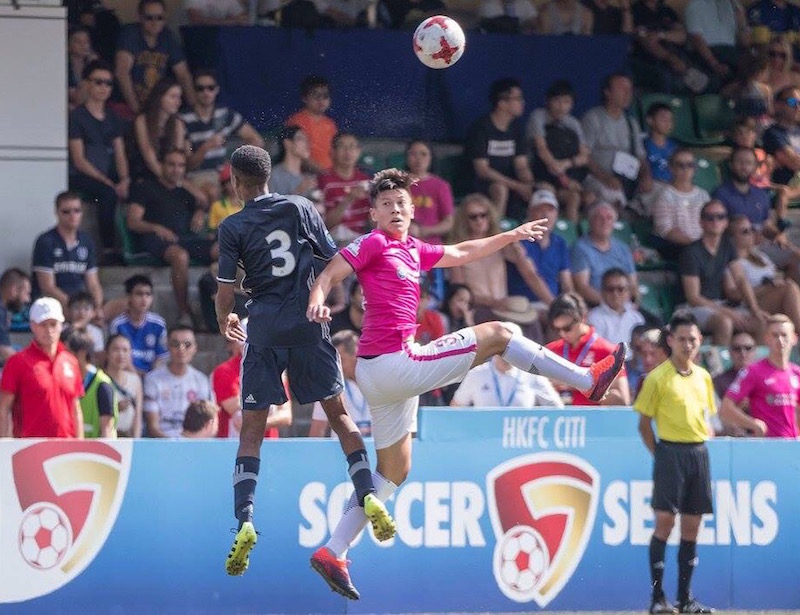 Mark Swainston was able to make his professional debut in the Hong Kong Premier League at the age of 17 due to the project
The success of a three-year pilot project has seen 22 IB World Schools receiving accreditation as WAoS Athlete Friendly Education Centres (AFECs) and the official 'green light' from WAoS and IB to move forward from the pilot phase.
IB World Schools offering the IB Diploma Programme (DP) that are accredited by the World Academy of Sport can now apply for an extended three-year DP for those students who want to follow an athletics pathway concurrently with their DP studies.
There are close to 1,200 student-athletes across the AFEC schools with some 100 student-athletes currently undertaking an extended period of study throughout the 22 AFEC-accredited schools. The first cohort of student-athletes who undertook a three-year DP successfully graduated following May 2018 examinations. Research that was undertaken early in 2018 indicated that both schools and student-athletes have benefitted from the project, many of whom would not have chosen the DP had the additional flexibility not been available.
Adrian Kearney, director of the IB's department serving IB World Schools globally, stated: "This exciting news is the result of a long-standing partnership between the World Academy of Sport (WAoS) and the IB. The IB has recognised the importance of supporting our schools to increase access to the IB Diploma Programme for those students who are strongly committed to sporting endeavours. The WAoS has been an avid partner in both highlighting the issue to us and working through many options on how we can work in partnership to continually evolve our structures and support such an important principle. Having delivered a successful pilot project since 2015, we now can see the positive impact on many student-athletes and participating schools around the world. It is therefore appropriate that today we can announce that the project has been formalised whereby schools and student-athletes that fulfil the criteria can access flexible options for completing the DP over an extended period. This model will be taken forward with WAoS to firmly establish the DP as the global standard in high school education around the world for student-athletes maintaining a dual career."
Stuart Bryan, Principal at Amman Baccalaureate School, Jordan one of the initial pilot schools and recently reaccredited as a World Academy of Sport accredited AFEC commented. "ABS is very proud to be an 'athlete friendly' school. The vision and principles of the initiative fits well within the school's own holistic approach to educating and nurturing all its students. This approval to move from a pilot project means that the school can seamlessly continue supporting student-athletes now and in the future. This news can only benefit our community as a whole and we at ABS are proud to have been able to participate in this latest innovation for international education."
Amro Al-Wir, an athlete and student at ABS, currently completing the DP over three years commented on what it was like attending 'athlete friendly' school, ABS. "It means a lot as it makes it easier to complete classes without effecting my training. ABS and all the teachers understand my needs as an athlete providing flexibility to support my academic achievement. Many people like my in-school mentor, counsellor and coaches support me at all times."
With at least 11 student-athletes at the last count from AFEC schools attending the Youth Olympic Games (YOG), the project provides a tangible global legacy for sport and education. It is envisioned that the number of AFEC schools and more importantly recognised student-athletes in the coming years will grow exponentially now that such strong foundations have been built across the project partners. Schools, parents and student-athletes can now enjoy the confidence to make increasingly proactive and flexible choices to better achieve their personal goals and better balance sport and education pursuits. All of this supports Agenda 2020 initiated by the International Olympic Committee to further engage communities around the world.
Chris Solly, Director WAoS, stated: "One of the core reasons for establishing the World Academy of Sport was to identify ways that global sport could better support athletes and allow them to achieve success both on and off the field of play. For 14 years we have worked tirelessly with the IB to bring this important project to fruition and it is a credit to the many people who have been involved, including our partner International Sporting Federations, education institutions and the City of Manchester, that we have achieved this announcement today. Student-athletes, parents and schools have taken a leap of faith with us in recent years through the pilot phase knowing that this is the right thing to do. Now we are moving to the next stage so that we may work towards eradicating the issue of athletes having to make sacrifices that may negatively impact them in the long term. The future is certainly bright for our young student-athletes and we foresee project alumni competing in many international sporting competitions in the years to come whilst keeping a strong focus on their long-term career aspirations."