The International School of Kuala Lumpur celebrates students achievements in IB and AP exam results
Posted on 11th Aug 2023 in School News, International Baccalaureate, Diploma Programme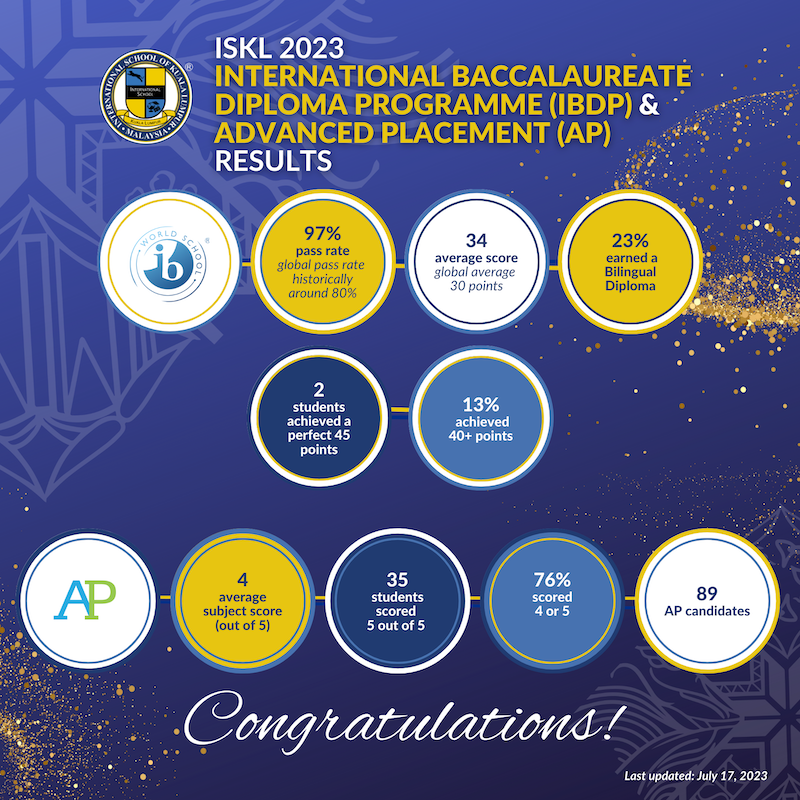 The International School of Kuala Lumpur (ISKL) is thrilled to announce that our students have once again demonstrated their commitment to academic excellence and achieved outstanding results in the recent IB and AP exams. These achievements are a testament to the hard work, dedication, and resilience of both our students and our talented faculty.
In the IB Diploma Programme, our students achieved an impressive average IB score of 34 points and a 97 percent pass rate, ISKL students were placed well above the global average. This result surpasses the global average and reflects our school's unwavering commitment to delivering a world-class education that empowers students to reach their full potential.
Furthermore, our student's performance in the AP exams has been equally remarkable. They excelled in a wide range of subjects. The exceptional pass rates and high average scores attained by our students highlight the rigorous academic program and the exceptional support provided by our dedicated teachers.
We would like to extend our heartfelt congratulations to all our students who have achieved such exceptional results. Their accomplishments are a testament to their hard work, resilience, and the unwavering support they have received from their families, teachers, and the entire ISKL community.
At ISKL, we believe that education is not just about academic success but also about fostering well-rounded individuals who are prepared to make a positive impact in the world. These achievements in the IB and AP exams are evidence of our student's abilities to excel academically while also embracing the values of compassion, integrity, and global citizenship.
Learn more about our students' achievements at https://iskl.site/results-2023.