​The Skye's the limit for Headington at IB results day
Posted on 24th Jul 2018 in School News, International Baccalaureate Tweet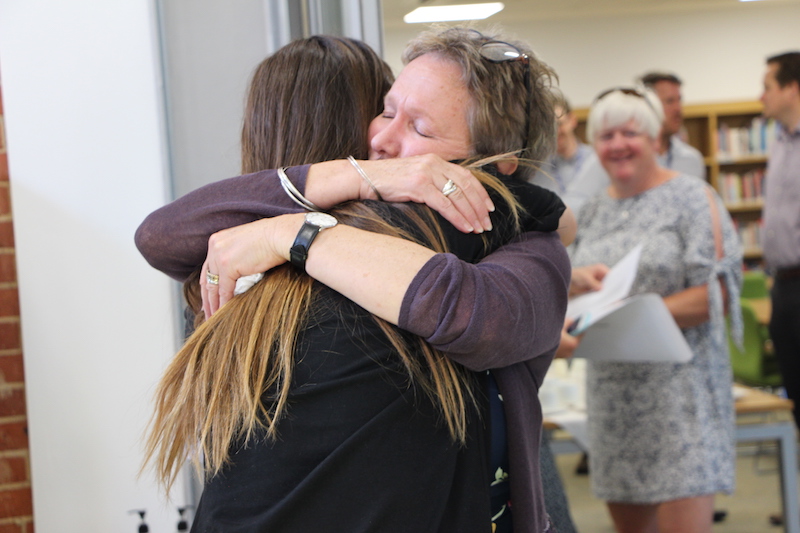 Headington School is celebrating its eighth year of top International Baccalaureate results, with one girl scoring full marks and three close behind with 44 – an amazing 13 per cent of the cohort. Skye Page-Croft, 18, is one of just 0.34per cent of students worldwide to achieve the maximum possible marks of 45/45. After a gap year, Skye will head to Edinburgh University to study Philosophy and Spanish.
Skye said: "My main emotion when I opened my results was disbelief, just complete shock – I had to check a couple of times. I still feel astonished but really proud and really grateful as well – I know if I wasn't at this school I would not necessarily have got these grades. It's a really nice way to finish school."
Chloe Lee, Sasha Liwicki and Head of Day Freya Mosedale all achieved an impressive 44 points, securing their first choice university places. Freya, 18, who is headed to Durham to study History and Spanish, joked that while she was "absolutely thrilled" with her results, part of her was disappointed she missed out on the perfect score.
She said: "I feel very grateful to my teachers and I think all of them have been incredibly supportive, they've been so amazing and gone above and beyond for me. I have also really enjoyed being Head of Day, it has given me confidence to voice my opinions and be authoritative when I need to be."
It was Headington's largest ever IB cohort, with 31 girls sitting the qualifications. The qualification continues to grow, with 38 due to sit their final exams next summer. Director of IB Mr James Stephenson said: "I am so pleased with the girls' achievements – they have put so much hard work in over two years and it's great to see them being justly rewarded."
Headington School has consistently been in the top 10 IB schools in the UK since the School began offering the qualification alongside A Levels in 2009. Today 45 per cent of the Headington girls taking the qualification achieved 40 points or more out of a possible total of 45. Of the 157,000 students around the world who sit the IB, only 10 per cent will achieve a result of 40 or more points. The cohort have secured places at a wide selection of universities, including Russell Group universities in the UK and elite establishments all over the world, including Japan, USA and the Netherlands. The IB Diploma is a well-established pre-university course which is offered as an alternative to traditional A Levels at Headington. To gain the Diploma, candidates must score at least 24 out of a possible 45 and this year Headington girls gained a fantastic average point score of 38.2.
Headington's Headmistress Caroline Jordan said: "One of the best parts of being Headmistress is days like today. We are delighted to be able to offer the choice of IB and A Levels to our sixth formers, allowing the girls to choose the curriculum that best suits them. These are a fantastic set of results in this challenging and rigorous programme and we are delighted for the girls and for their teachers."