Tips for IB students to study successfully online
Posted on 8th Jul 2020 in University Study, Australia Tweet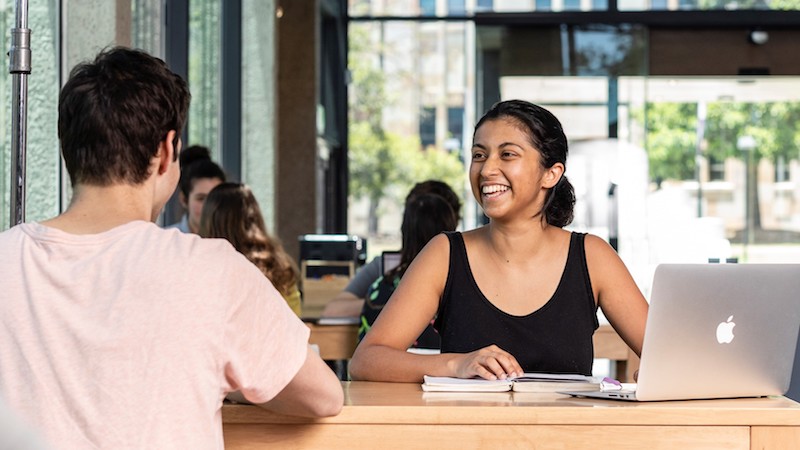 In Semester 1, 2020 the usually vibrant and bustling campus of The University of Queensland (UQ) was definitely more quiet than usual. However that does not mean that life went quiet for our near 15,000 cohort of international students who were studying from home.
The international students at UQ have proven that you can still thrive while studying a university degree online. They have shared their best advice and tips that can help you to stay motivated, achieve your goals and study successfully from home.
Create a daily routine
All of the UQ students emphasized the importance of keeping up a routine to give your day structure and stay on task.
This will ensure you remain motivated, disciplined and keep up self-esteem. Self-management skills are also highly valued by future employers.
Wake up at a regular hour and schedule in time for your classes and learning activities, as well as regular breaks, exercise and recreational time.
Kranthasi from Malaysia studies a Bachelor of Communication. She says that although studying online was something she has never done before, she has adjusted with the help of a daily routine.
Kranthasi explains how she's adjusted to studying online from UQ International on Vimeo.
Use tools to help manage your time
Even though you might not be leaving home to undertake your studies, life as a student is still very busy. You still have to keep on top of multiple tasks, participate in classes, submit assessments and of course manage your personal time.
Not many of us are masters of time management on our own. Make use of your calendar, daily to-do lists, and reminder apps to help you.
While studying a Bachelor of Arts (dual major in Economics and International Relations), Advik from Singapore uses a to-do list on his tablet to help manage his time.
Advik shares how he manages his time from UQ International on Vimeo.
You don't have to use apps if that's not your thing. Kranthasi uses a printed calendar for major monthly tasks such as assessments. She finds that writing it down and having it posted up somewhere she can see it helps keep her accountable.
Kranthasi shares her daily routine and how she keeps track of her online studies from UQ International on Vimeo.
Minimise distractions
There's no doubt that being at home can be distracting when you're within arm's reach of snacks, streaming services and social media. Having a quiet and comfortable place where you can carry out your work and turning off distractions such as phone and social media notifications will help you to maintain focus.
Rico from Hong Kong says although it can be very distracting studying from home, putting away his phone helps.
Rico explains how he minimises distractions whilst studying from home from UQ International on Vimeo.
Engage in healthy habits
Keep your mind and body healthy by getting enough rest, exercise, proper nutrition and social time with friends and family. Healthy habits will refresh and recharge you to do your best in your work and studies.
Kelly from China says getting enough sleep, eating healthily, taking breaks and exercising are some of the most important things she needs for a great study experience.
Kelly shares her healthy habits and other tips and tricks to succeed in her online studies from UQ International on Vimeo.
To discover more about study at the University of Queensland, visit future-students.uq.edu.au.