University focus: National University of Singapore
Posted on 11th Jan 2019 in University Study, Singapore Tweet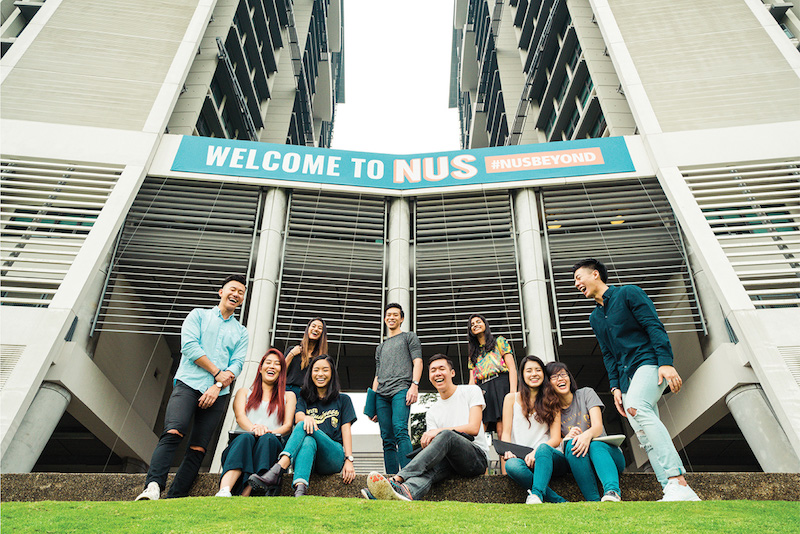 The National University of Singapore (NUS) is Singapore's flagship university and a leading global university, rich in academic offerings, research accomplishments and heritage. We are committed to providing students with a rigorous, broad-based and globally oriented education, and have pioneered some of the most innovative programmes available today. Recently, NUS took the top spot in the QS Asia University Rankings 2019 and the University is consistently ranked amongst the best universities in the world.
Stretch your intellectual limits with our wide range of academic offerings with over 56 bachelor's degrees and 33 double majors. Through our 17 faculties, you can explore the different tracks of NUS' unique academic pathways, offering a broad spectrum of curricula and courses to suit various interests and strengths from the Arts and Social Sciences to Medicine and Engineering. To expose our students to emerging fields and be well equipped for careers of the future, we launched new degree programmes and majors like Philosophy, Politics, and Economics (PPE), Business Analytics, Information Security and Pharmaceutical Science.
At NUS, we give you both breadth and depth of knowledge and the flexibility to chart your own course in university. Join our premier University Scholars Programme, pick a minor or specialisation that satisfies your intellectual curiosity or even take up a double, joint or concurrent degree. We also encourage students to spend time away from Singapore and you may find yourself spending a semester or two abroad at one of our 300 partner universities delving deeper into your chosen field of study.
We understand that the transition to university life can be especially tough. To ease freshmen into the rigour and demands of university, we introduced the Grade-free First Year scheme where you are encouraged to pursue academic and personal interests boldly. Take classes you are curious to explore, be it in theatre, data science, or even a language, and have no fear that your overall academic performance in university will be affected.
For our most enterprising students, we have NUS Overseas Colleges (NOC) where you can spend up to a year abroad working at promising start-ups at entrepreneurial hubs and taking classes at partner universities around the world. Intern by day and student by night, you will learn to be your own boss and thrive in the start-up ecosystem. To date, NOC has expanded to over 11 locations globally from Toronto to Tel Aviv, and our renowned partner universities include Stanford University in the USA, Fudan University or Tsinghua University in China, the Royal Institute of Technology (KTH) in Sweden amongst others. Alumni from the programme have found great success establishing over 300 companies and you could be next.
University is not just about academics; the learning experience complements avenues for artistic, cultural and sporting pursuits at over 100 societies, interest groups and sports teams. Join a dance crew, pick up a new musical instrument or compete in a rock climbing competition, the possibilities are endless with our world-class facilities. You also have the option of living on campus at our Residential Colleges, Student Residences or Halls of Residence to immerse yourself in vibrant community life. At last count, there are about 38,000 students from over 100 countries who further enrich the community with their diverse social and cultural perspectives.
Recognizing that the jobs of tomorrow will look nothing like the ones today, NUS established the first-of-its-kind Centre for Future-ready Graduates (CFG) to equip you with the skills and experience needed to excel in your future career. Perfect your brand and map your future career with job readiness courses students can take throughout their undergraduate life. Our graduates embark on exciting and fruitful careers across sectors from finance to the arts and we are proud to be placed 10th in the 2018 Global University Employability Ranking published by Times Higher Education (THE).
Feeling inspired to spread your wings at NUS? We welcome you to apply for admission in the upcoming 2019 academic year. Applications have commenced for students presenting the International Baccalaureate (IB) Diploma and students may apply with their actual or forecast results by 21 February 2019. Click here to learn more about our application procedure and requirements. The University also offers attractive scholarships and financial aid to international students to finance their education in NUS.
Follow us on Facebook, Instagram and Twitter for the latest on student life, university happenings and all things related to undergraduate admissions. Also, download our 'NUS Admissions' app on the Google Play Store (Android) and the Apple App Store (iOS) to receive notifications on application deadlines and relevant updates.