​University focus: Temple University, Japan Campus
Posted on 7th Feb 2017 in University Study, Japan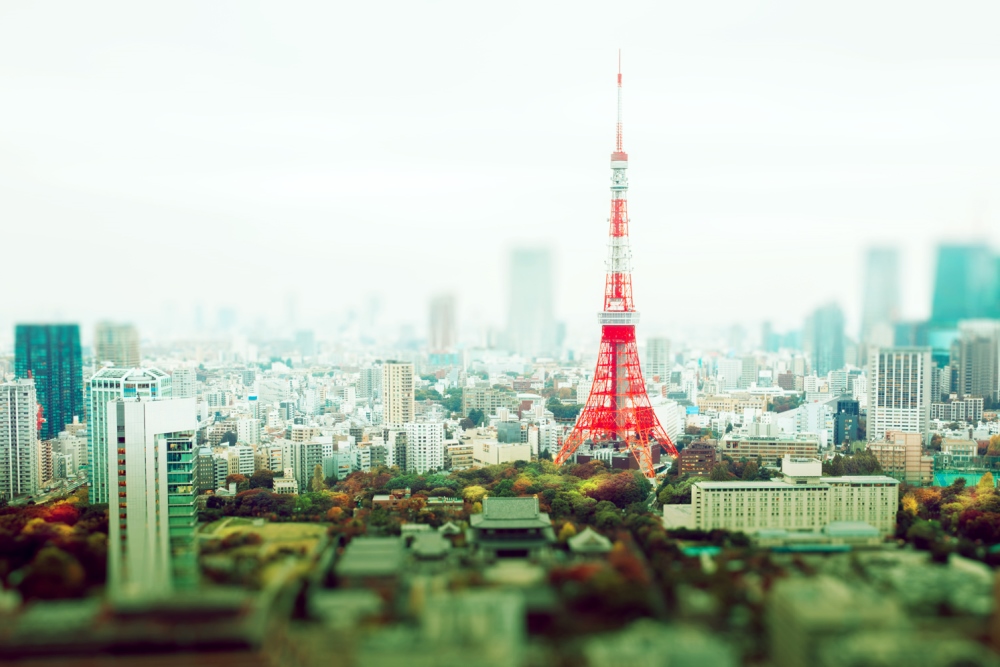 100% English Speaking Campus

100% American Degree
100% Tokyo
Temple University, Japan Campus (TUJ) is the oldest and largest foreign university in Japan. Founded in 1982, TUJ is the first institution to be officially recognized as a Foreign University, Japan Campus by Japan's Ministry of Education, Culture, Sports, Science and Technology. It remains the only university in Japan to offer comprehensive programs in English for degree and non-degree students, and where students can earn American bachelor's, master's and doctoral degrees without leaving Japan.
An American Education
TUJ is an international campus of one of the United States' largest research universities, Temple University in Philadelphia. Like Main Campus, TUJ is accredited by the Middle States Commission on Higher Education, one of the six regional accrediting bodies for higher education in the United States. Students at the Japan campus receive the same credits, degrees and transcripts as students at Main Campus. All classes at TUJ are taught in English and no Japanese proficiency is required.
Majors*
International Business Studies / Japanese Language / Asian Studies / Communication Studies / International Affairs / Art / Psychological Studies / Economics / Political Science / General Studies
*Temple University Main Campus offers bachelor's degree programs in 153 areas
Studying in Japan
TUJ offers the unique opportunity to receive an American university education in Tokyo. Japan is among the world's most influential economies and is a gateway to Asia. TUJ students study towards their college degree in English while immersing themselves in the culture, language and history of Japan outside the classroom.
International Campus
Students from around the world come to TUJ for its unique mix of academic rigor, central Tokyo location and Japanese cultural immersion. Approximately 60 nationalities are represented in the student body. In addition to Japan and the United States, TUJ has students from Australia, Brazil, Taiwan, Canada, China, Russia, Germany, Kuwait, Sweden, Spain, South Korea, and many other countries. TUJ is able to sponsor Japanese student visas for its international students.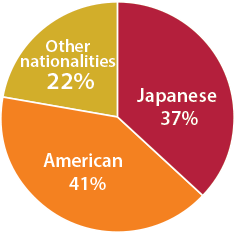 (As of Fall 2016)
Career Development
TUJ students have opportunities to undertake prestigious internships, and TUJ graduates have gone on to careers with many of the world's leading corporations, non-profit organizations and governments, or have gone on to start their own businesses.
Student Testimonial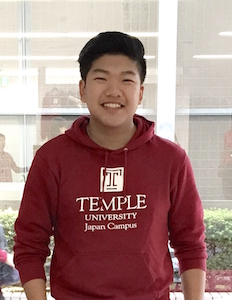 Joshua Kurniawan
(Graduated from Sekolah Pelita Harapan in Indonesia)
After graduating from an International Baccalaureate Diploma high school in Jakarta, Indonesia, I came straight to Japan to study at TUJ, majoring in both Economics and International Business Studies. To me, studying in an American university in Tokyo is a chance to have an American education while staying in Asia, which is where I want to focus my career. TUJ's American-style classes as well as internship programs in both Japanese and multinational companies are like having the best of both worlds.
There are a lot occasions at TUJ where I feel I am able to get ahead using my IB background. For a start, I made friends with other IB graduates right away in my first semester, mostly talking about the struggles we endured together in the IB Programme. I am also able to comfortably write long, critical essays, which some students struggle with. I am also prepared to approach my assignments with the IB learner profiles in mind, especially in inquiring, thinking and communicating my ideas. Also, the diversity at an IB school prepared me for the greater diversity at TUJ, where there are not only students from all over the world, but also from all ages and walks of life to make friends with and learn from.
To all IB students out there, I want to encourage you to look beyond the IBDP. Look beyond the EE's, the TOK essays and the 6's or 7's, because the real value in your IB education lies in the skills you acquire in the long run. All the hardship you face in IB will bear fruit once you are in university, as it has for me at TUJ.
Temple University, Japan Campus (TUJ)

Admissions Counselling Office
2-8-12 Minami Azabu, Minato-ku, Tokyo 106-0047, Japan
E-mail: ac@tuj.temple.edu
Fax: +81-3-5443-4823
Hours: Weekdays 9:00-17:30 (Japan Time)