​What is SEL and why it matters now, more than ever?
Posted on 30th Nov 2021 in School News, Thailand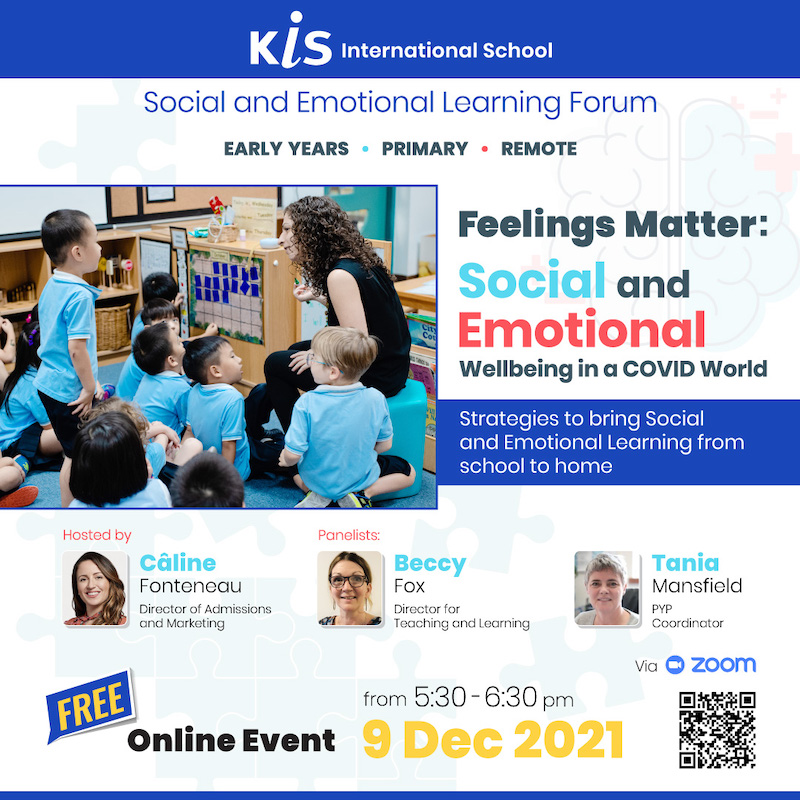 KIS International School invites you to join their online event on the 9th December where a number of their educators will discuss holistic, evidence-based Social and Emotional Learning (SEL) programs that supports student success.
The stressors caused by the pandemic and remote learning (e.g., loss of routines, social isolation, economic hardships) have dramatically increased the need for effective Social and Emotional Learning (SEL) programs.
After this online session, you will come away with information on:
How to encourage your child to express and manage their feelings positively.
Strategies you can apply to foster independence, responsibility, and positive behaviours in your children.
How to access SEL tools and resources.
What is Social and Emotional Learning (SEL)?
Social and emotional learning is the process of developing self-awareness, self-control, and interpersonal skills that are necessary for resilience, wellbeing, and overall life satisfaction.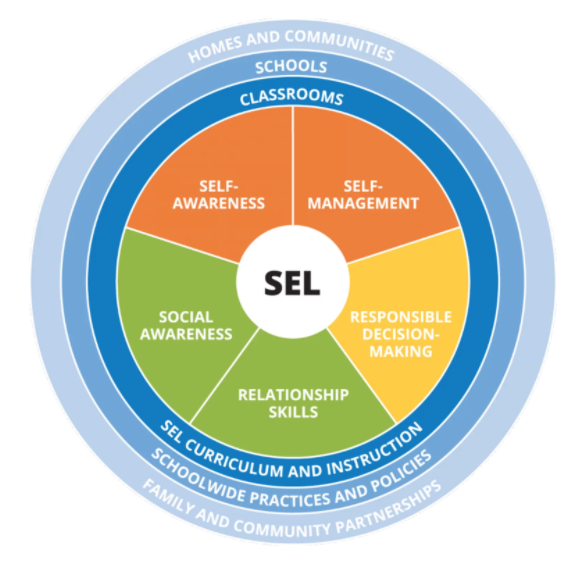 The center shows five core social and emotional competencies. Surrounding them are key environments where students live and grow. By working together to build school-family-community connections, schools establish holistic SEL practices that develop self-awareness and self-management skills to help students achieve school and life success.
Why is SEL important?
Powerful emotions like uncertainty, loneliness, and grief are not uncommon as we continue to deal with COVID-19. According to UNICEF, 7 in 10 children and young people reported poorer mental health due to the impact of COVID-19.
"Increasing numbers of children and adolescents in Thailand and around the world are facing mental health conditions and disorders, and we believe this is just the tip of the iceberg," said Kyungsun Kim, UNICEF Representative for Thailand. "Although the impact of poor mental health among children and young people is significant with the potential to result in lifelong consequences, mental health remains largely neglected and under-estimated, often times even hidden due to the stigma and shame surrounding the issue."
Time and time again, research shows that effective SEL in schools is linked to improvements in academic achievement and outcomes. It improves students' social-emotional skills and attitudes about self and others. SEL also decreases levels of emotional distress and behaviour problems.
As parents, it is our natural reaction to intervene when we see strong emotions from children. But, what we do (or don't do) in response to a child's emotions plays a pivotal role in the social-emotional habits they develop and carry into adulthood. As a community of educators and parents, we can support children and each other by developing positive social and emotional habits.
Register for the event here: https://zoom.us/webinar/register/7716378962954/WN_... and join us to learn from KIS educators as they discuss the need for holistic, evidence-based SEL to support students.