The University of Queensland (UQ)
Founded in 1909, The University of Queensland (UQ) is a global top 50 university that has championed creative thinking and fostered a love of learning in students for more than a century. Brisbane is the home of UQ's St Lucia and Herston campuses and is the capital city of Queensland along with its economic and cultural hub. The city is home to over 200 nationalities and 220 languages. UQ's third campus is situated in Gatton, about 80km west of Brisbane, where students enjoy a laidback, country lifestyle in a close-knit community. UQ has a diverse student body with 280,000 graduates from 170 countries.

At UQ, we are at the frontier of knowledge creation. We are one of Australia's leading research-intensive universities. The calibre of our research and the impact of our innovations is addressing many of the cultural, economic, and social challenges facing the world today. UQ is currently ranked 47th in the world by the prestigious QS World University Rankings, 2022.
We offer a total of 380 degrees from undergraduate to postgraduate. Whatever your career or study goals, you will find a degree to suit you across one of our six faculties. UQ's faculties are: Business, Economics and Law; Engineering, Architecture and Information Technology; Health and Behavioural Sciences; Humanities and Social Sciences; Medicine, and Science.
Our teachers are the most highly awarded in the country. We are committed to your learning and enabling you to become a creative, adaptive, and innovative problem-solver in today's workplace. Our courses are designed to maximise your employment when you graduate. This means that you will apply theoretical knowledge in practical settings. From our marine research station at Heron Island and our veterinary science centre at Gatton to the Business School in Brisbane's city centre and our medical centres located in hospitals throughout Queensland, we immerse you in environments where learning and making a difference meet.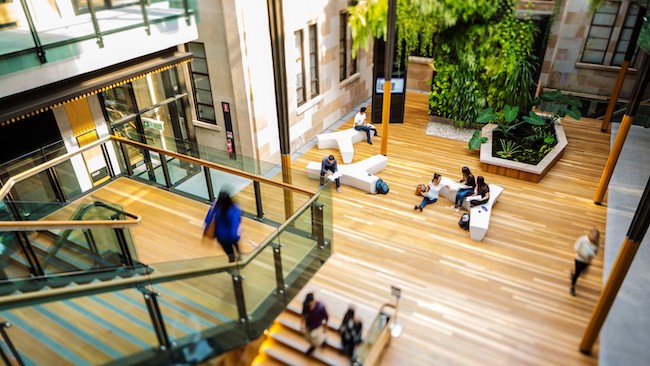 As a UQ student, Queensland is just the first stop on your adventure. Grow your global network through UQ's student exchange program by studying up to two semesters of your degree at one of our 180 partner institutions in 41 countries. You will gain program credit while expanding your world perspective, enhancing your employability, developing your network, and maybe even learning a new language.
As a local and globally connected university, UQ provides many opportunities for students to apply knowledge gained in the classroom to the real world. You will have access to work-integrated learning, entrepreneurial courses, local and global internships and volunteer positions to boost your confidences, capabilities, and résumé. A wide range of free entrepreneurship programs are available to complement your studies, and to help you build a network, take on new challenges, and bring your ideas to life.
Social media links: