A celebration of excellence at Uplands!
Posted on 6th Sep 2019 in School News, DIploma Programme, Malaysia Tweet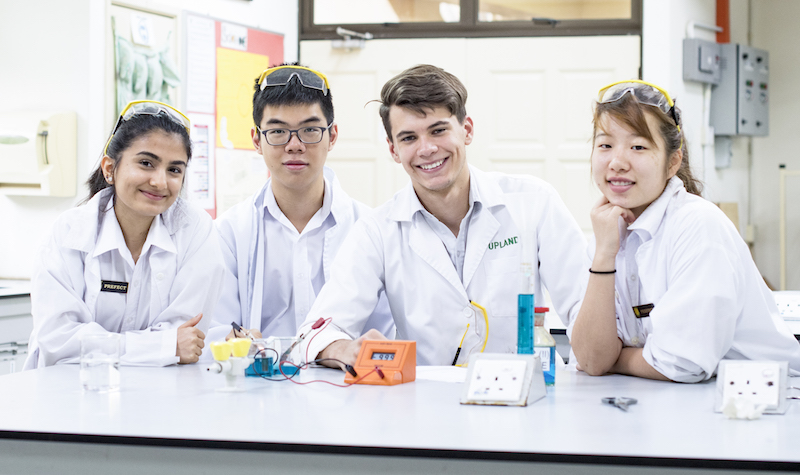 At the end of the 2018-2019 academic year, The International School of Penang (Uplands) once again celebrates excellence in our International General Certificate of Secondary Education (IGCSE) and International Baccalaureate Diploma Programme (IBDP) examination results.
At IGCSE, we have had our best results ever!
Our statistics record 722 examination entries for 112 students across a range of 28 subjects, with the following breakdown of grades:
60.2% achieving the top grades of A*-A
80.6% achieving A*-B
93.5% achieving A*-C
Some highlights for A*-A percentages for individual subject areas include: Mathematics - 83% of the Additional and Extended; Science - 75%; Languages – 82% of the foreign languages offered (Mandarin, German, French, Spanish, Malay, and Japanese); Economics – 74%.
We are particularly proud of our 'Value Added' statistic where we have shown a Value Added score of 0.9 grades per student. Every student is baseline tested at the start of the course using a standardised aptitude test, which indicates the grades in each subject that students are expected to achieve based on their baseline scores. The Value Added score is an indication of what the school has 'added' to the student on top of their expected grade for each subject. A Value Added score of 0.9 equates to nearly one whole grade higher for each subject entry than the baseline predictions! In other words, if baseline testing predicts a student a B grade, they actually achieved an A grade.
At IBDP, we continued the Uplands tradition of averaging significantly higher than the world average IB scores:
Uplands Average Diploma Score: 35
World Average Diploma Score (May 2019): 29.6
36 Diplomas and 3 Bilingual Diplomas awarded
Highest IB score was 42/45 points
23% of students scored 40+ points
28% of our awarded 38 points or above, equivalent to 236 UCAS points this year – which compares to more than four A* grades at A level.
Congratulations to our students and we wish them all the best as they prepare to join many of the finest universities around the world, including: Durham University, University of Glasgow, King's College London, University of Manchester, University of Nottingham, University of St Andrews, University of California Berkeley, New York University - Abu Dhabi (United Arab Emirates), Hong Kong University of Science and Technology (Hong Kong), International Medical University (Malaysia), National University of Singapore (Singapore).
Uplands School Principal, Mr Giles Mongare, said the outstanding examination results further demonstrated Uplands' continued commitment to providing world class education and learning opportunities for all. "Uplands students continue to achieve at the very highest levels. I am very proud of their combined accomplishments and cannot thank and praise their teachers enough for all their dedication and hard work. These results do not happen by accident and I thank all involved for their combined efforts".
The International School of Penang (Uplands) has been offering the International Baccalaureate's IB Diploma Programme since 2002. The programme aims to develop students who have excellent breadth and depth of knowledge – students who flourish physically, intellectually, emotionally and ethically. The IB Diploma Programme ensures that students are well-rounded and prepares them for higher education and the world of work. IB graduates are academically prepared for university coursework and research shows that they perform exceptionally well when compared to their non-IB peers.
Siva Kumari, IB Director General said: "IB graduates show continued curiosity and critical thinking throughout their lives. These are the skills of the future, as both universities and employers attest. IB graduates are highly prepared to contribute to their own communities and, increasingly, to help find solutions to the broader challenges facing the world. I wish this year's graduates from The International School of Penang (Uplands) my heartfelt congratulations and I look forward to hearing how they continue to make the world a better place as they join our alumni network."
For more information on the IGCSE, IBDP and boarding at The International School of Penang (Uplands), please visit our website www.uplands.org or contact our Admissions by email, admissions@uplands.org.