Flexible futures: opening doors to diverse, global opportunities
Posted on 17th Nov 2023 in School News, International Baccalaureate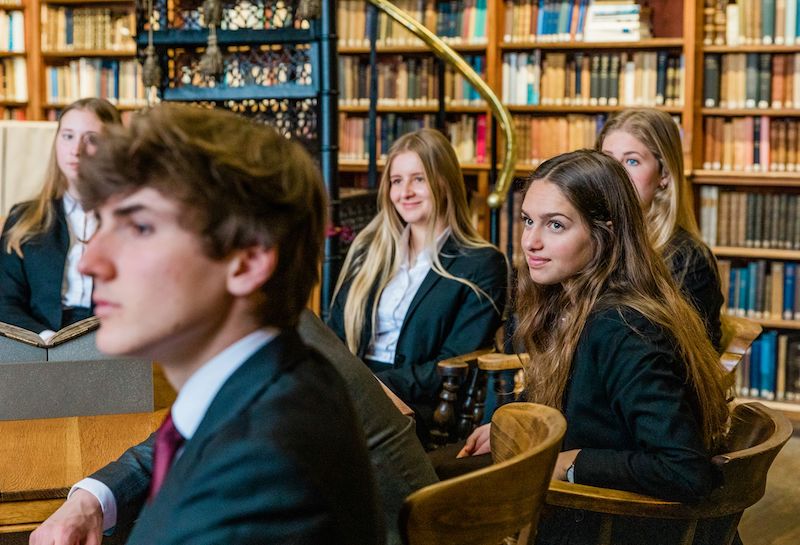 As many young people now embark on new A level ventures, others have begun the International Baccalaureate Programme, which is a great option for those looking to unlock top-tier opportunities both domestically and globally.
Stonyhurst College is the only Catholic IB school in the UK, home to a community of 26 pupil nationalities and many more through alumni from across the world. The school has held IB World School status since 2012 and offers the International Baccalaureate Diploma (IBDP) as a popular alternative to A levels, evidenced by 40% of the current Sixth Form cohort studying the programme.
Prime Minister, Rishi Sunak's, recent announcement about the benefits of a broader baccalaureate-style education has further elevated the profile and the benefits of the IB to the UK market. Compared to the UK's typical three subject A level national curriculum, the IB provides a broader and more rewarding syllabus by choosing a greater range of subjects. It is certainly an exciting time to be considering the IB Programme, particularly for those who have a desire to be in the best position to succeed in the global workplace.
The Director of IB at Stonyhurst, Deborah Kirkby, is a huge advocate of the programme's versatility in empowering individuals to make informed decisions about their future.
"Keeping options open is always a sensible choice for those uncertain about their career path. By not specialising too early or committing to a career pathway at 16, pupils retain the flexibility to pivot and explore diverse career opportunities as they become confident in a range of disciplines, and this approach is hugely beneficial in allowing them to adapt to changing job markets and emerging industries. This also comes with qualities from a well-rounded education that are highly valued by employers, such as critical thinking, problem-solving and adaptability.
"While A levels continue to have an established place in our Sixth Form provision, the IB, which is currently offered in more than 150 countries, acts a global passport and opens up the world to our pupils. We find that the IB is a great qualification, not just for those who are planning on applying to UK universities and workplaces, but also for those who are considering work or further study outside of the UK when they leave us. Many of these international institutions are well-known for their extremely competitive entry processes and the IB's academic rigour is an excellent preparation for these courses."
The International Baccalaureate Organisation reinforces this credibility by stating that the IBDP is recognised and respected by the world's leading universities, such as Harvard, MIT and Stanford. Evidence suggests that the skills developed in the Diploma, which at Stonyhurst is modelled on university-style learning, sees students thrive in Higher Education, having already had experience of project-style assessments, managing multiple deadlines, engaging in critical thinking, and conducting their own academic research through the compulsory Extended Essay component.
Having consistently performed above the world average, Stonyhurst IB graduates have gone on to study at a range of prestigious universities in the UK as well as across Europe, the US and Canada. Subjects studied reflect the breadth of education with an IB curriculum, and have varied from Medicine, Law and Engineering, to Philosophy, Politics and Economics, Psychology and Film Studies. This all draws from the IB programme that encompasses six academic subjects across a full, structured six-day-a-week timetable, including subjects not available at A level such as Environmental systems and societies and Global Politics.
"IB pupils relish the fact that they can study a wide range of engaging subjects rather than narrowing their choices down," adds Deborah. "This broadness is also reflected in the programme's international perspective, encouraging pupils to think globally and understand diverse cultures. This awareness is vital in our increasingly interconnected world, promoting tolerance and open-mindedness, and ultimately developing young people who are knowledgeable, caring and want to create a better world through intercultural understanding and respect. This aligns remarkably well with Stonyhurst's Jesuit mission of learning and development of the whole person."
The school is recruiting for the IBDP for September 2024, with limited places available. IB pupils will be joining a very welcoming and diverse community, located in the heart of the stunning Ribble Valley and boasting a wide range of over 75 extracurricular activities.
"The IB programmes are unique qualifications for the 21st century. They are intended to create global citizens, to empower students with the skills and knowledge that they can apply anywhere in the world, for jobs that maybe don't even exist yet. We like to think of our pupils as agents of change and we are very excited about the future of the IB programme at Stonyhurst."