Greenfield International School's entomology art project inspired by works of Clare Celeste Borsch
Posted on 25th Apr 2022 in School News, United Arab Emirates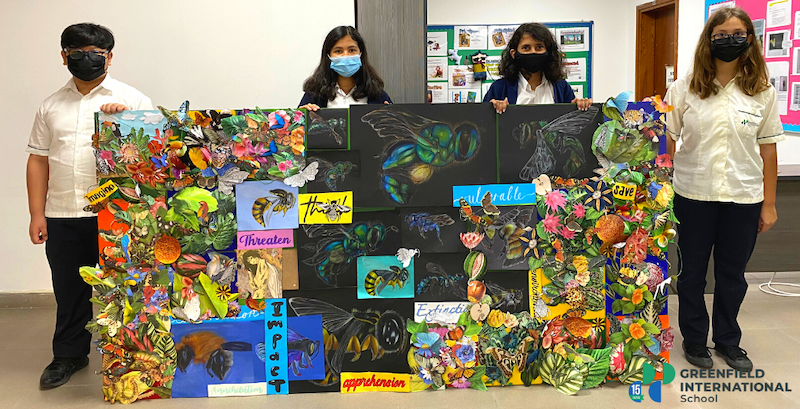 Taking inspiration predominately from artists Clare Celeste Borsch and Kelly Stanford, Grade 7 students at Greenfield International School have been examining and analysing the beauty and brutality of the natural world. Celeste-Borsch's artworks have been influenced by her love of mother nature, engaging with themes that are evocative of our planet's threatened biodiversity. Both artists use their art with the aim of raising awareness and action around the ecological crises that are continually facing our planet.
Borsch works with thousands of hand-cut images of flora, fauna, and insects to create epic and immersive installations that highlight decline of many species. Her unique style of sculpture and awe-inspiring immersive installations give rise to important questions by enmeshing the viewer in thousands of individually hand cut images, a thought-provoking reminder of our inextricable connection to the natural world.
In addition to learning about paper sculpture, students also learned about photo realistic drawing through the lens of artist, Kelly Stanford. Stanford is a science communicator, researcher and artist who is focused on using the power of art for science outreach.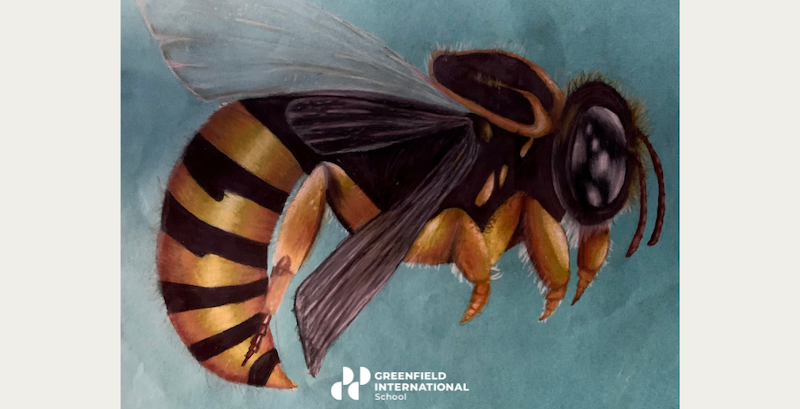 In an attempt to illustrate their understanding of both artists' styles and techniques, Grade 7 created their own three-dimensional paper sculptures which were later amalgamated into a large-scale collaborative piece combining their Stanford inspired photo-realistic drawings. The combined artwork will be displayed in one of the foyers of our school, the drama of the forms creates an exciting visual sensation that captures the attention of onlookers. By captivating the viewer's attention, our students hope to highlight issues of the ecological destruction of our planet and its fragile beauty that will only be preserved if we act now.
How creativity can help promote awareness
The Visual Arts, through its diverse range of approaches, can help promote awareness of important environmental issues by drawing attention to subtle and complex issues. By focusing on collage installation and photo-realistic drawing as captivating visual tools, Grade 7 hope that their artwork will connect with the viewer on a deep and emotional level, taking cognisance of environmental causes and needs.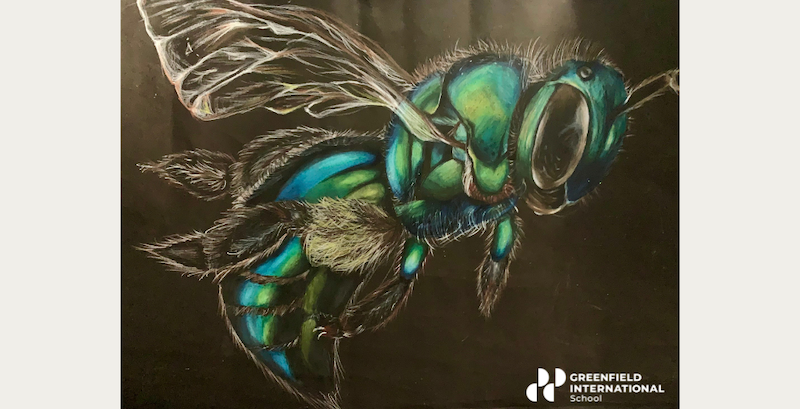 Ms Vasavi Koka, arts teacher at Greenfield International School, felt justifiably proud of her students' artwork and so decided to write an email to the critically acclaimed artist and within a very short space of time, she replied with this message: "I am incredibly impressed by the collaborative mural the class designed to raise awareness around the decline of the insect population. It is my greatest ambition as an artist to inspire young people to be creative and to use art as a means of environmental advocacy and activism. This project is beautifully executed and communicates a clear and important message about the insect biodiversity crisis. I am thrilled that my art was used as an inspiration for such an important learning experience and such a beautiful final artwork."
Such compliments reflect her generosity and her acknowledgement of the talent of the students at the school.