Implementing blended learning to the IBDP at GEMS Wellington Academy – Silicon Oasis
Posted on 28th Feb 2017 in School News, United Arab Emirates, Diploma Programme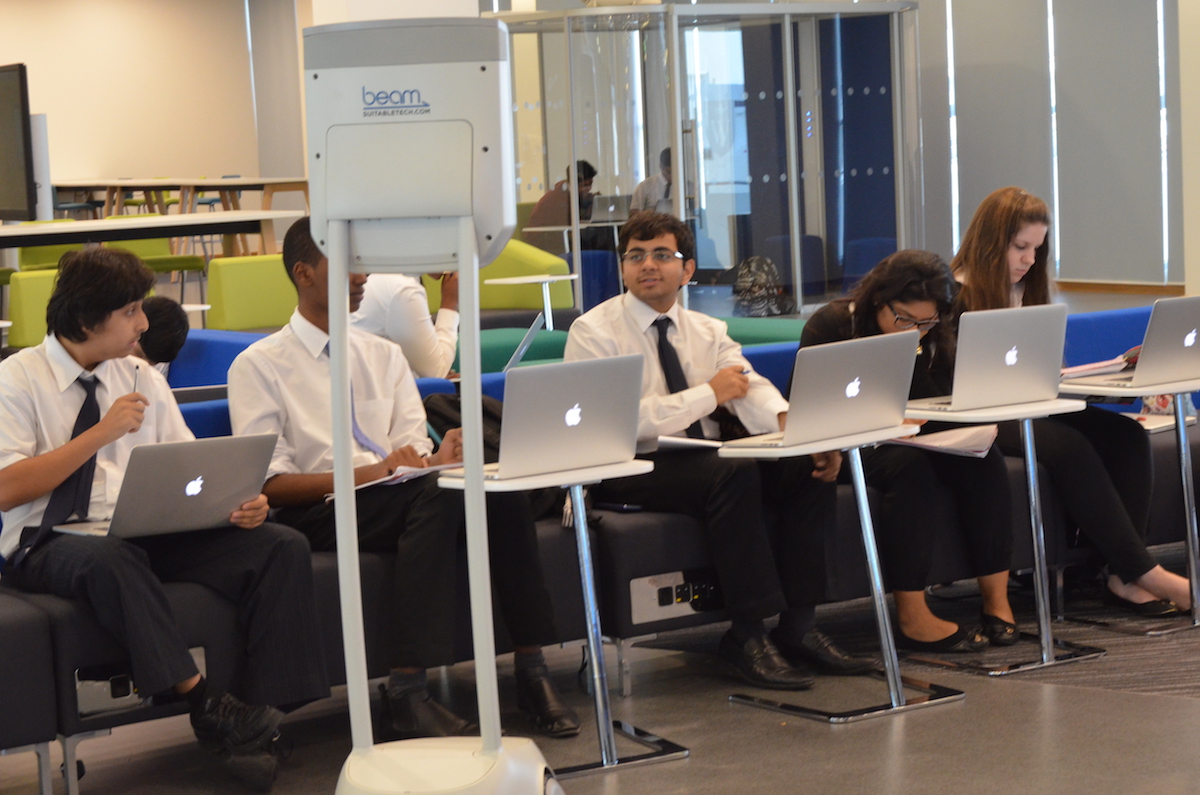 GEMS Wellington Academy – Silicon Oasis operates a unique set of Post 16 qualifications and pathways including a unique "blended" approach to the world-renowned IB Diploma.
For today's "digital natives", this is an opportunity to learn within a digitally blended environment that is truly designed for their needs and learning style preferences, while taking full advantage of the physical resources, academic support and extra-curricular activities of GEMS Wellington Academy.
Working in partnership with Pamoja Education, we offer an unrivalled, unique and world-class approach to Post 16 learning which will truly prepare students for university and the world of work in the 21st century like no other programme. Every Academy student will study part of their diploma using both face to face and digital delivery. The success of our approach has now led to other GEMS schools across the world adopting the same model and methods.
Why a blended IB?
The IB Diploma sets the standard in secondary education, recognised by prestigious universities around the world. The IB Diploma curriculum is broad as well as deep, expecting students to take courses in a range of subjects. The curriculum is indeed rigorous, but it is inspiring as well as challenging. The heart of the Diploma is the Core programme, designed to develop the cognitive skills and attributes of an expert learner, alongside the independence and drive of a citizen determined to find a way in which he or she can contribute to the world. IB students learn in a community fuelled by a passion for learning.
New technologies and new skills
For today's students, who already navigate the digital world so confidently, our blended approach to the IB Diploma is a highly attractive learning programme. Taught by some of the world's most experienced IB teachers, students are exposed to new technologies and ways of learning that will prove essential in their future studies and careers. Students learn and collaborate in small cohorts, with colleagues both situated within the Academy and from around the world, an approach that supports development of a truly global perspective.
"For me, the blended approach to the IB Diploma has two unique features; the style of learning and the global perspective. The style combines the best of digital and face-to-face instruction. Students have a high level of independence in structuring their workweek, but close supervision and support to help them stay on track. And the courses are designed to get students, often from opposite end of the globe, working together toward a common goal. This is the IB Diploma Programme at its very best!"
Edward Lawless, Principal, Pamoja Education
"By combining first-class digital instruction with strong face-to-face academic tutoring, mentoring and support at our Academy, we are delivering the best of both worlds. All our students will study in this way and, with the support of both digital and Academic Tutors, will have the best possible preparation for university and high level employment. This is a pioneering approach which will truly deliver 21st century learning at its very best."
Michael Gernon, CEO and Principal, GEMS Wellington Academy, Silicon Oasis, Dubai
How does it work?
IB Diploma Programme students are integrated within classes of approximately 25 students from all around the world and are given access to the course content through a sophisticated digital learning platform. The content is broken down into weekly lessons: each week, an experienced digital IB teacher introduces objectives, explains assignments and interacts with students to help them stay on track. In addition, an Academic Tutor specialising in key subject areas also guides and supports students within the Academy.
The courses are taught mostly asynchronously (meaning students do not need to be in the digital class at a particular time) using the materials and resources made available on the learning platform. In addition to various forms of communication available asynchronously, students will also have the opportunity to join live lessons with their digital teacher every week, allowing them to interact with classmates in real time and have questions answered straight away. The Academic Tutor will also meet with students each week to provide seminars and tutorials to support and further enhance the course delivery and maximise the final grade outcomes.
Students are encouraged to share and discuss contemporary resources and case studies. The digital classroom features carefully selected resources and tools to support this experience, including discussion forums, blogs, wikis and news feeds. All the content is archived, so students will be able to refer back to it as much as they need which is particularly helpful for exam revision.
Strong support – virtual and within school
In addition to the support provided by their digital teachers, students receive individual guidance, mentoring and support, from a site based e-Learning Coordinator (SBC), their Academic Tutor and through a Post 16 Support Team. The SBC liaises with students' digital teachers and Academic Tutors on a regular basis. The Academic Tutor, as a specialist subject expert, is assigned to the appropriate blended course for maximum support. They monitor progress closely and liaise with the digital teachers, the students and their parents.
The SBC (Site Based Coordinator) and Academic Tutors are the key points of contact between the digital teachers, as well as students and their parents.
What are the features of the IB Blended Diploma Programme?
The key features are:
– Students learn and collaborate digitally and face-to-face with classmates around the world and within their learning environment.
– Courses are taught by highly experienced IB teachers, making use of the most effective learning technologies and supported by specialist Academic Tutors within the Academy.
– Students attend the Academy and are fully integrated in student life and all activities.
The IBDP and IBCP subject pathways are full time taught classes delivered by a face-to-face teacher or digital teacher and supported by an Academic Tutor. They require students to be ambitious, driven, self-motivated, good time managers, and collaborative learners – all the pre-requisites of university education. A full induction will help to prepare students for this way of working and will provide them with the necessary tools, skills and capabilities to learn effectively within the digitally enhanced environment.
What do our students say?
"The IBDP Blended Learning pathway is an exciting opportunity to learn and engage with students and teachers all over the world."
"The ability to learn at my own pace, the freedom of digital classes as well as the comfort off the f2f (face to face) environment is what attracted me to the Academy. You can't learn in this way anywhere else!"
''It has a lot of flexibility and allows me to work at my own pace, manage my time, and really challenge my intellectual capabilities through time with my Academic Tutor."
''It makes students independent of teachers, and helps them study on their own. This will really help me in preparing for life at university."
What do our parents say?
"I didn't expect that my daughter would thrive on this course - but she has."
"I'm delighted that my son can develop the skills he needs for the future."
"The course is so different to how I first imagined. The support is excellent."
For more information on GEMS Wellington Academy – Silicon Oasis, please see the school's profile on www.ibyb.org.