International School Brunei celebrates another brilliant year of IB Diploma success
Posted on 18th Nov 2021 in School News, Brunei, International Baccalaureate, Diploma Programme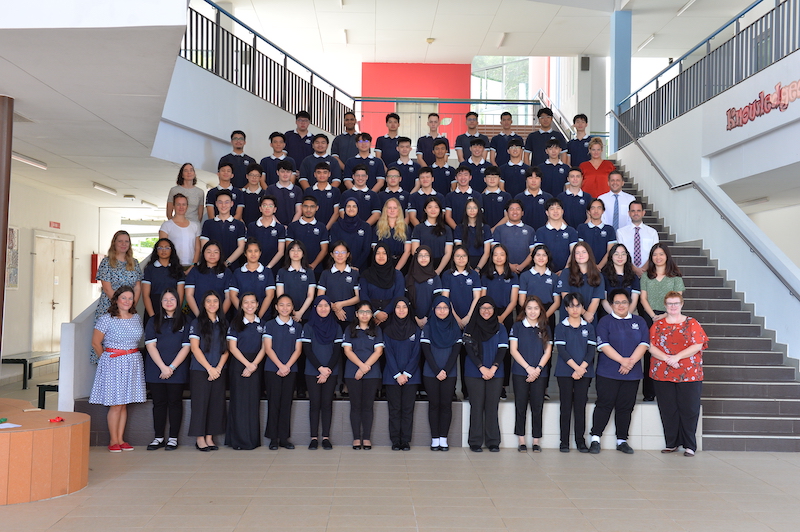 International School Brunei (ISB) is celebrating the achievements of their May 2021 International Baccalaureate (IB) Diploma students with the announcement of the recipients of the 2021 ISB Board of Directors Achievement Awards. The May 2021 cohort is the most outstanding in ISB history, with a record thirty-eight students qualifying for the awards.
The Board of Directors Achievement Awards began in 2018, making 2021 the fourth time that ISB's top IB achievers have received awards, together with financial bursaries to contribute to their cost of tertiary education.
The IB Diploma is a gold-standard, academically challenging course completed by students all over the world. Globally, 170 660 students were assessed for the IB Diploma in May 2021, with an average point score of 33. At ISB the point score was 36, well above the global average. In the cohort of 63 Year 13 students, thirty-eight ISB students received Board of Directors Awards for their performance – marking an outstanding year of IB Diploma results and a continued tradition of excellence at ISB.
For reaching the top echelon of IB results, graduates received Excellence Awards in Bronze, Silver or Gold categories (overall points between 37 and 45) and for achieving substantial performance improvement throughout their IB studies, graduates were awarded a special Achievement Award.
Chairman of the ISB Board of Directors, Ahmad bin Isa, said, "We are very impressed with the resilience and perseverance shown by our graduates, the dedication of teachers and the steadfast support and understanding of parents, all working closely together during this pandemic, bringing out the best in Brunei Darussalam here at ISB."
Four students – Charlotte Lim Jia Yee, Ayu Mein Li, Kaewta Jill Benedicto, and Tang Zhong Hau – received the Gold Award for achieving between 43 and 45 points overall.
Nine students – Nur Fatima Azma Sulaiman, Dirk Wilfried Hingst, Joshua Wee Tze Hau, Ko Wei Han, Marawan Essam Mohamed Shaaban, Abdullah Mostafa Mahmoud Abdrabou Habib Menisy, Abhipsha Ghosh Dastidar, John Anthony Hannigan, and Natalie Leung Sze Lu - received the Silver Award for achieving between 40 and 42 points overall.
Fourteen students – Loh Wen Jiunn, Abdul Lathif Abd Aziz, Chin Tzer Rong, Batrisyia Hj Mohammad Hairul Radzi, Chelsea Lim Qiao Yin, How Jia Cheng, Nur Rahmah Zulkifli, Nursalsabila Haji Zainuddin, Farah Nadiah Saiful Bahrin, Lee Jeongbin, Md Adie Wafrie Md Suhaimi, Nazirah Asnan, Zachary Koh Chung Kai, and Leroy Soh Hwa Yang - received the Bronze Award for achieving between 37 and 39 points.
Finn Reekie-Evans, Bridgette Rose Greaves, Kim Joonho, Pang Poh Hui, Muhammad Ahnaf Danish Firas Hj Othaman, Nur Syifaa' Ermielya Mohd Rashidi, Mohammad Nafe' Haji Mohammed Hussain, Chin Jia Wei, Raiya Ahmed Hashil Al-Maskari, Luk Yu Shian, and Muhammad Baqir Qayyum Hairol Nizam were also awarded Achievement Awards for performing at least 5 points higher than their individually set IB baseline.
Tony Macfadyen, Executive Principal of ISB said: "We are delighted with these outstanding results that recognize the intellectual quality of our students.The International Baccalaureate is a brilliant, broad based, well-designed, two-year course that asks a lot of the participants.This cohort of ISB students has risen to the challenge amazingly and we are very proud of all of them."
The school thanks the ISB Board of Directors, teachers, and parents for their continued support throughout the students' learning journey and bids a final farewell for the Year 13 students as they embark on tertiary education at renowned universities world-wide, including: Maastricht University (Netherlands) University of Edinburgh, University of Liverpool, University of Manchester, University of Essex, University of Dundee, Nanyang Technological University and University of British Columbia.