International School Brunei celebrates IB Diploma success​
Posted on 26th Oct 2020 in School News, International Baccalaureate Tweet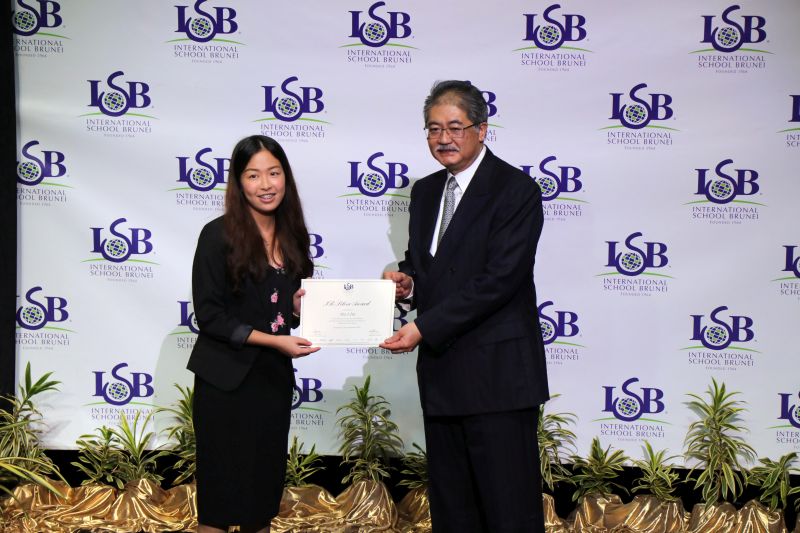 On Wednesday 16 September 2020, International School Brunei (ISB) hosted their annual Board of Directors Achievement Awards Evening for their International Baccalaureate (IB) students who achieved outstanding results for the May 2020 session. At this event held at its Bandar campus, the school also celebrated the graduation of the May 2020 Year 13 cohort.
The Board of Directors Achievement Awards began in 2018, making this event the third time that ISB's top IB achievers have received awards, together with financial bursaries to contribute towards their cost of tertiary education.
The two-year IB Diploma is a gold-standard, academically challenging pre-university course completed by Year 12-13 students (6th Form) all over the world. Globally, 170,344 students were assessed for the IB Diploma in May 2020, with an average point score of 31.4. The average point score for ISB was 33, well above the global average. In the 2020 cohort of fifty-eight Year 13 students, eighteen students received ISB Board of Directors Awards for their performance, marking an outstanding year of IB Diploma results and a continued tradition of educational excellence at ISB.
For reaching the top echelon of IB results, graduates received Excellence Awards in Bronze, Silver or Gold categories (overall points between 37 and 45) and graduates who achieved substantial performance improvement were awarded a special Achievement Award.
Kim Hyeonah, Ashley Ha, Auni Afiqoh, Valerie Tan and Kim JooHyung received the Silver Award for achieving between 40 and 42 points overall.
Shannon Yew, Hazwani Omar Ali, Chan Shiuh Lin, Andrea Young Zi Yi and Sulaiman Norhisham received the Bronze Award for achieving between 37 and 39 points. Hazwani Omar Ali, Sulaiman Norisham, Shreya Pradhan, Isabel Una Klaja, Kayleigh Patricia Erminda Bogart, Chuang Wei-Che, 'Aisyah Batrisya Dr Muhd Hiza Wardy, Henry Kwang Wei Liang, Shi YingJie and Fenila Babu Vini Fread also received Achievement Awards for performing at least 5 points higher than their individually set IB baseline.
In his opening speech, Awang Haji Ahmad Bin Pehin Orang Kaya Laila Setia Bakti Diraja Dato Laila Utama Haji Awang Isa, Chairman, ISB Board of Directors, said, "We are very honored to be able to send our IB graduates all over the world, secure in the knowledge that ISB has prepared them to succeed and face challenges with tenacity, determination and positivity."
The invited guestspeaker was Nur'Ayeshah Ahmad, Marketing Communications Manager at Grand Hyatt Dubai, and ISB alumna and IB graduate of the Class of 2009. She shared her experiences in the IB Diploma Programme and how it had helped prepare her for success at university and careers in Switzerland, Portugal, London, Singapore and Dubai. Whilst the IB Diploma was challenging, she said, "the key skills you have acquired in the IB will always be handy. Coupled with support from your loved ones, they play a vital role in your future success."
During the graduation ceremony, each member of the Year 13 class of 2020 were also presented with their graduation certificates, marking the end of their educational journeys at ISB. The ceremony finished with closing remarks from ISB's four 2020 scholarship recipients: Hazwani Omar Ali (Ministry of Education Scholarship – Law, University of Manchester UK); Ashley Ha (Ministry of Education Scholarship – Law, University of Birmingham UK), Valerie Tan (Brunei Shell Joint Venture Scholarship – Economics and Finance, University of Edinburgh UK) and Felicia Kwa (Chinese Government Scholarship – International Relations at the Beijing International Studies University) which included votes of thanks to the ISB Board of Directors, teachers and parents, and a final farewell for the Year 13 students as they embark on tertiary education at renowned universities world-wide, including: Melbourne University, University of Edinburgh, Trinity College Dublin, University of Manchester, University of Essex, Nanyang Technological University, University of California, Beijing International Studies University and University of British Columbia.
Laura Thomas, Executive Principal of ISB, said: "We are incredibly proud of each and every one of our Year 13 graduates. They embody our ISB ethos alongside the IB Learner Profile. We are confident that they are well prepared for the challenges they'll face at university and beyond, and we look forward to seeing them again in the future to hear stories of their global successes."
The event was also streamed live for graduates and their families, who have left Brunei and were unable to attend, to view via the school's official YouTube account.