Meet the Head of Primary at The International School of Penang (Uplands)
Posted on 27th Oct 2021 in School News, Malaysia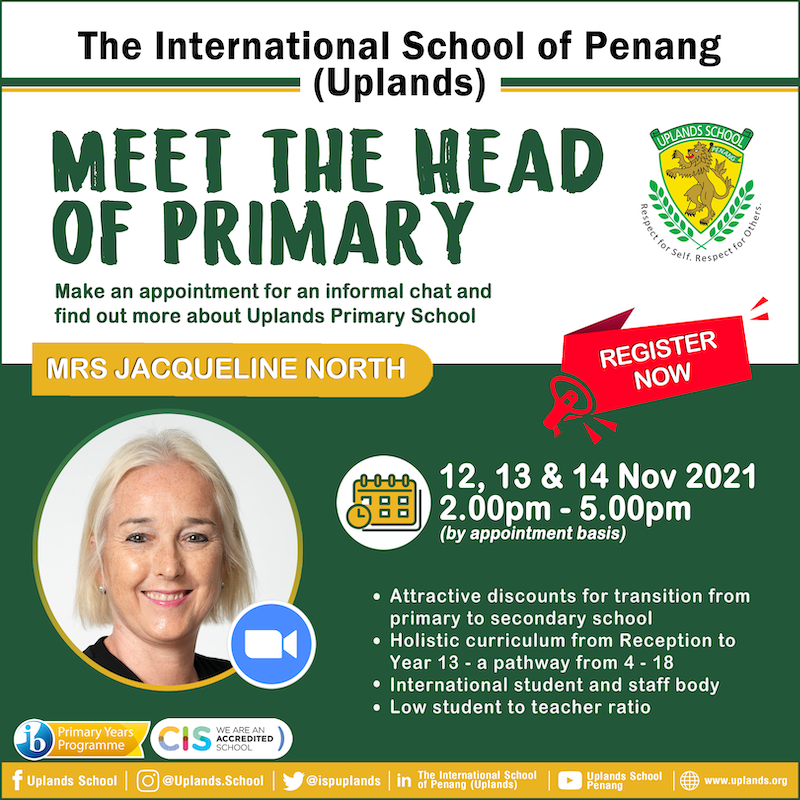 The International School of Penang (Uplands) invites you to make an appointment to meet their Head of Primary, Jacqueline North.
The School has introduced a new fee structure for its primary school students for the 2021/22 academic year. We have modified the fees in each year of the primary school, as well as reducing the entrance fee into the school by RM 5,000 per child. We have also reduced fees for students who transition from Uplands primary school into Secondary school with these students receiving discounted fees in Years 7 and 8.
At Uplands we provide a world-class transition for our students from our primary school into secondary as we function as "two schools, one campus, one vision". Students are supported academically, pastorally, and holistically as they transition through the school with the teachers working collaboratively in both schools to assist the children as they make this changeover. The primary and secondary timetables are aligned and enable our students to seamlessly move from one school to another. We also share teachers across both schools to assist the transition, ensuring students have a familiarity with the staff across both schools. To find out more about our world-class transition, please register at https://www.uplands.org/forms/event-registration to speak to our Head of Primary, Mrs Jacqueline North, who will be very happy to discuss this with you in more detail, virtually from 12th, 13th and 14th November 2021 (2pm to 5pm – by zoom appointment only).
There are limited places still available in our Year 5 and 6 classes for both January 2021/22 and 2022/23 academic years as you plan your child's transition into secondary school. Get in quick to ensure your child's enrolment so you can take advantage of our reduced fees from Uplands Primary into Uplands Secondary school and be part of our transition programme that will set your child up for success as they adapt from primary into secondary schooling.