Stonyhurst College celebrates remarkable International Baccalaureate results
Posted on 12th Jul 2022 in School News, International Baccalaureate, Diploma Programme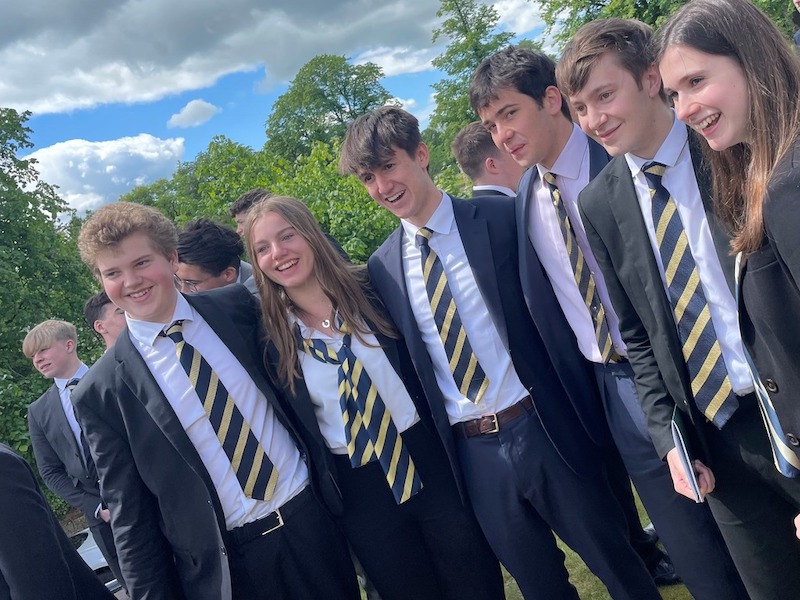 Stonyhurst is, once again, delighted to share the achievements of its International Baccalaureate 2022 pupils who have received their IB Diploma results. Many pupils have attained exceptional results in their final exams, fulfilling the school's core aims in the pursuit of academic excellence.
Stonyhurst have continued to outperform the global average of 31.9 points, with an average score of 34.4 points. Over a third of candidates achieved 36+ points, broadly equivalent to 3As at A level. The top points score was 42, a feat achieved by less than 4% of students worldwide and is equivalent to 4 A*s at A level.
Stonyhurst were delighted to see 100% of the International Baccalaureate Career Pathway (IBCP) candidates achieve their certificate conditions. Our top IBCP candidate achieved a UCAS tariff point score of 80 from his IB components alone and is on track for a combined UCAS tariff equivalent of 3 A*s at A level.
University offers have been achieved at a variety of Russell Group and other competitive university destinations in the UK, such as Warwick, Exeter, Manchester and Bath, as well as a range of prestigious institutions across Europe including IE University Madrid and Maastricht University in the Netherlands.
The breadth of the International Baccalaureate curriculum is evidenced in the wide variety of subjects being studied, including Law, Engineering, Economics, Management, Politics and International Relations and Medicine.
Commenting on the 2022 results, Olli-Pekka Heinonen, Director General of the International Baccalaureate, said: "After a global pandemic, which has thrown up multiple challenges over the last two years, these grades are a testament to the resilience and dedication shown by the whole Stonyhurst community. The character on display illustrates everything the IB stands for."
John Browne, Headmaster of Stonyhurst, said: "The International Baccalaureate Programme at Stonyhurst continues to flourish. These results are a remarkable tribute to our young people who have shown such determination and optimism through the extraordinary events of the past two years. The global nature of some of the university destinations demonstrates the ambition of our Stonyhurst pupils. The IB philosophy promotes international-mindedness and a broad and challenging curriculum which has prepared these fine young people so well for the next stage of their educational journey."