Stonyhurst College launches state-of-the-art open day platform
Posted on 6th Oct 2022 in School News, United Kingdom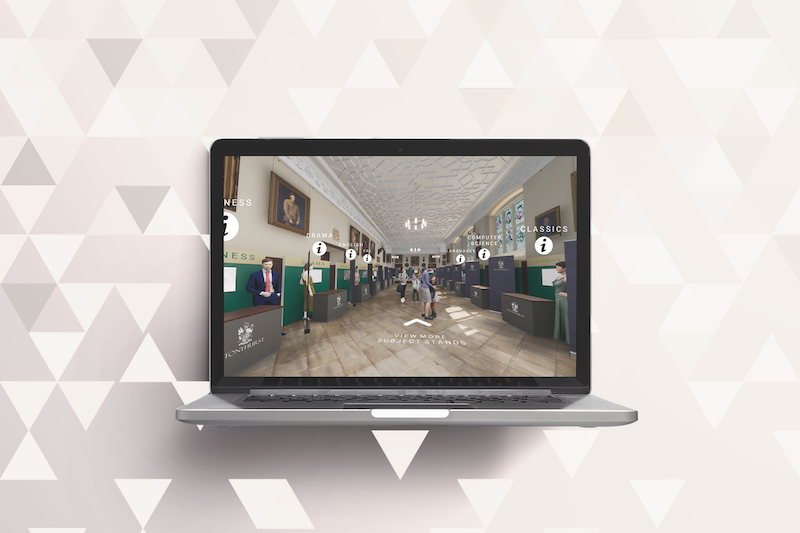 Stonyhurst has created a state-of-the-art virtual Open Day experience allowing prospective families to attend events from anywhere in the world.
This unique and immersive experience mirrors a physical Stonyhurst Open Event in the closest possible way, giving users the freedom to explore the main event hall (Top Refectory) as they usually would. Using the latest software, the first to be used by an independent boarding school, users can move freely from the Auditorium to the Top Refectory, listen to speeches from the Headmaster and Deputy Head Academic about Stonyhurst's values and the academic pathways, watch subject-specific videos and speak with teachers via the live chat and video functionalities.
During the pandemic, Stonyhurst saw its highest pupil intake and overall growth. Subsequently, waiting lists were in operation as early as November for entry into the next academic year. This has allowed the school to continue with its investment into facilities, boarding houses and co-curricular activities to refine the pupil experience and make it an unforgettable experience. To bolster their recent demand for places, Stonyhurst continues to innovate using technology to provide outstanding customer experiences. It has remained an important objective to improve Stonyhurst's virtual Open Day experience for overseas families and for those who may prefer to access the event from home.
Helen Eastham, Director of Admissions and Marketing, says: "The pandemic has meant that we have had to embrace all things digital, which has given us new opportunities to bring value to our prospective families. A Stonyhurst Open Day is an experience that receives positive feedback and we have been looking at a way we can connect our prospective families to the school without the need for face-to-face contact, or when time and distance is an issue. Although we prefer to welcome our families in person, the quality of the virtual Open Day is the next best thing."
The live Open Day events will be hosted on a standalone microsite and the link will be sent to families once they have registered for a virtual Open Event. A smaller-scale version of the event named the 'Open Day Every Day' will be accessible on the website, 24/7, for visitors to understand how the platform works, gather information, meet the pupils, and note down any questions before accessing the live event.
These events are not intended to replace the physical Open Events but run alongside to provide an additional and more innovative way for prospective families to learn more about Stonyhurst before making their decision.
The Open Day Every Day can be accessed here: www.stonyhurst.ac.uk/admissions/open-days/virtual-...