Stonyhurst launches "Summer Festival of Sport"
Posted on 21st Feb 2023 in School News, Sport, Summer School, United Kingdom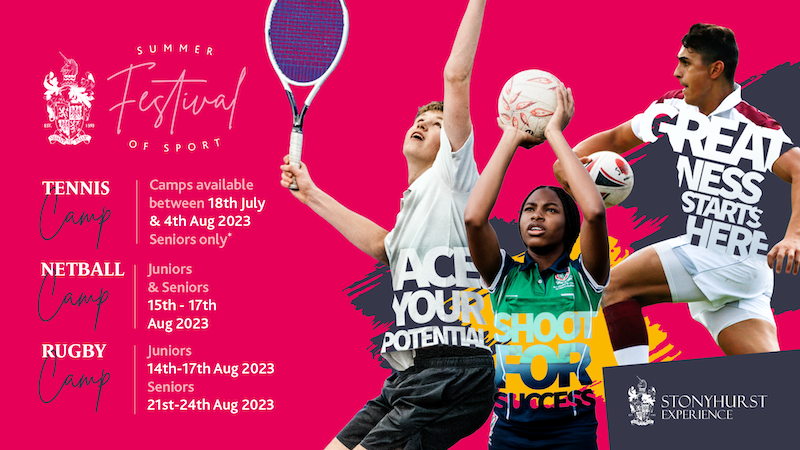 This year Stonyhurst will be hosting its inaugural residential and day "Summer Festival of Sport" programmes allowing children from all over the globe to take part in a variety of sports camps, utilising Stonyhurst's impressive facilities.
Based in the heart of the Ribble Valley, children will be offered the opportunity to sign up for a variety of sports camps, including Netball, Rugby and Tennis for both senior and junior age groups. For the first time, residential camps, will be offered in rugby and netball, allowing children to immerse themselves in the Stonyhurst Experience. As well as taking part in local excursions, trips and enjoying evening entertainment, children will have the opportunity to make lifelong friends and become well-rounded young people.
Stonyhurst's facilities boast a 25-metre swimming pool and gym, 22 sports pitches and 2 indoor grand slam tennis courts within the all-year-round tennis dome, providing young sports people with enhanced opportunities to maximise their potential and train to the best of their ability.
Each camp will be run by a team of professional pastoral care experts, providing 24/7 support for children. To support children's wellbeing and their ability to perform in their chosen sport, organically sourced meals and access to the on-site health centre will be provided.
The Summer Festival of Sport camps will deliver an unforgettable experience for a wide range of children, aged 8-18 years, offering both junior and senior levels. Senior camps will nurture talent, focusing on performance and skill as well as an opportunity to prepare for pre-season training. The juniors' camp will focus on enabling children to have an action-packed summer holiday of a lifetime, meeting new friends and having fun. Each camp will be directed by former and current professional players and coaches with a low coach-to-pupil ratio to allow the children to be all that they can be.
Stonyhurst's Netball Masterclass will once again be led by Tracey Neville MBE, a former England player and coach, who boast numerous honours as both a player and a coach. Due to the overwhelming success of the netball camp over the past three years, Stonyhurst is expecting another sell-out year for this camp.
Stonyhurst's Rugby Camp will be delivered by Dino Radice and Marcus Jackson. Dino is a current Director of Rugby at Blackburn Rugby Club & has successfully delivered Rugby Camps for the past 15 years. Marcus is an experienced coach at Stonyhurst and coaches Sale Sharks Junior Academy, developing the best talent in the Northwest.
The Tennis Camp will be hosted by David Shaw, Director of Tennis at Stonyhurst and former professional. After winning the Lawn Tennis Association's Lancashire Tennis School of the Year award for two consecutive years, Stonyhurst is thrilled that David and his team will once again return to deliver an outstanding tennis programme.
- Netball Seniors – 10-15 years – 15th August – 17th August 2023
- Netball Juniors – 8-9 years – 15th August – 17th August 2023
- Rugby Seniors – 14-18 years – 21st August – 24th August 2023
- Rugby Juniors – 8-13 years – 14th August – 17th August 2023
- Tennis Seniors – 9-16 years – Camps available in-between 18th July - 4th August 2023
Paul Sharples, Director of the Stonyhurst Experience team said: "We are delighted to announce the launch of our very first Summer Festival of Sport, offering both residential and non-residential places. Over the past few months, The Stonyhurst Experience Team have been busy designing the bespoke camps to inspire children to be the best that they can be. These camps are suited to those who want to excel professionally, as well as those who want to enjoy their summer holiday by making friends and learning new skills. The Stonyhurst Experience Team look forward to welcoming you to Stonyhurst."
For further information on Stonyhurst's Summer Sports Camps please visit: https://languageschool.stonyhurst.ac.uk/make-a-boo...
If you have any questions, please do not hesitate to contact The Stonyhurst Experience Team at enterprises@stonyhurst.ac.uk