Stonyhurst tennis stars become champions of the North
Posted on 24th Oct 2022 in School News, Sport, United Kingdom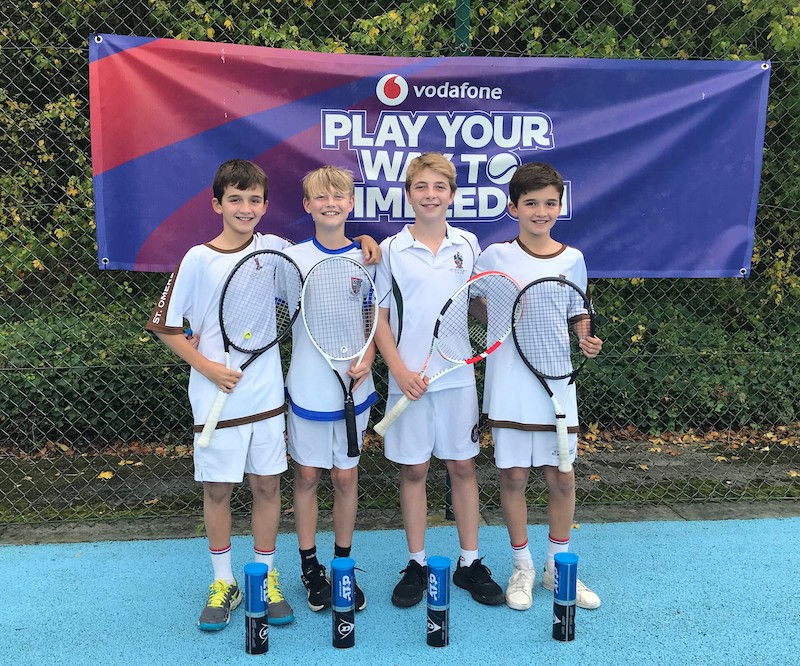 Stonyhurst's junior tennis team was named the LTA Youth Schools (Division 2) North Regional tennis champions last week at a fiercely contested tournament following their victories in the Lancashire Final earlier this year.
The team, comprising four of Stonyhurst's talented tennis players, William, Lucas, Alvaro and Jaime, began their journey to victory in May 2022 by defeating Westholme School, Baines School and AKS Lytham. Following these winning matches, the team progressed to the Lancashire County Semi-Finals, with an exceptional win over Merchant Taylors' School. At the Lancashire Final in late June, Stonyhurst displayed another great performance, reigning victorious against Broughton High School to become Lancashire Champions.
The LTA North Regional Finals, held last Friday October 14th, saw Stonyhurst's team and their coach, Director of Tennis, David Shaw, travel to the John Charles Centre for Sport in Leeds. The Final consisted of a three-way round-robin event against Trinity College, Cumbria, and Bradford Grammar, Yorkshire. In a number of fiercely contested singles matches, Stonyhurst beat Trinity College 6-0 and Bradford Grammar School 4-1 to become champions of the North.
Director of Tennis, David Shaw, said: "It has been very rewarding to watch and support these young players through their competitions and training over the past six months. The win is a credit to the dedication of our pupils and coaches and the continued investment in tennis at Stonyhurst. The boys have gained a lot of experience and their attitude to the competition has been exemplary."
Stonyhurst, which was named the Lawn Tennis Association's Lancashire Tennis School in 2021 for the second year running, boasts a successful Tennis Academy which has seen increasing success under the directorship of former professional David Shaw and his team of coaches who have developed a cohort of national and regional players within the school.