Stonyhurst's sportswomen plays for England
Posted on 9th Mar 2023 in School News, Sport, United Kingdom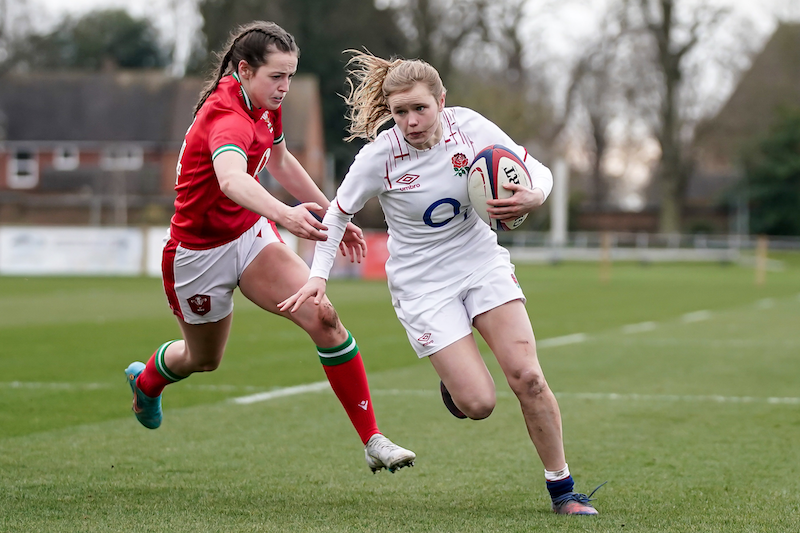 Last weekend marked a significant milestone in Stonyhurst's already rich sporting history with one of its pupils playing for the U18 England Women's rugby team, leading the team to victory against Wales.
The match was the first international fixture for the 2023 season which took place on Sunday 5th March at Rugby School, the birthplace of rugby union 200 years ago, as part of the bicentennial anniversary celebrations. Sunday's game was the first-ever women's international to take place at Rugby School. Connie, a Scholar in her final year at Stonyhurst College, was selected to play for the starting XV, and scored two tries, helping the team to reign victorious over the Welsh side, with a final score of 48-5.
Connie played on the left wing and made her 15-a-side international debut, after playing for the England U18 7s team last summer. The 18-year-old is an outstanding all-round sportswoman. Alongside rugby, she represents Stonyhurst in 1st XI hockey, 1st VII netball, and 1st XI cricket.
John Browne, Headmaster of Stonyhurst, said: "We are incredibly proud of Connie and her debut with England's rugby team. Her contribution to the team's victory is a remarkable tribute to the determination and maturity of this young sportswoman. Connie is setting a fine example for her younger peers, and we are looking forward to what the future holds for her. Our motto Quant Je Puis, As Much as I Can, was certainly on display this weekend."
Beginning her journey at Stonyhurst in Year 8, Connie is balancing her Sixth Form studies, taking A levels in mathematics, biology, and chemistry, with her training programmes for England, Sale Sharks and Preston Grasshoppers. Connie's England debut followed her success with Sale Sharks last week, where she again was a try scorer alongside her fellow Stonyhurst sportswomen, Priya, who also demonstrates a huge amount of skill for the sport.
The England squad will now turn their attention to the 2023 U18 Six Nations Festival, running from 7-15 April at Wellington College.
Connie said: "I had an amazing experience. Wearing the rose and running to sing the national anthem was incredible. Stonyhurst has always been supportive and given me time to go to training and, through the sports scholarship program, helped me to achieve my goals. After the match, I was flooded with congratulatory emails from numerous staff members who showed their encouragement."
This summer, Stonyhurst is delighted to launch its first residential and day "Summer Festival of Sport" programmes allowing children to take part in a variety of sports camps, rugby, netball and tennis, for children aged 8-18 years. The rugby camps will have a strong focus on skill development led by experienced coaching teams who will draw on years of experience to challenge and stretch players to realise their potential.
Find out more here.