Teachers are frontliners, too!
Posted on 22nd Apr 2020 in University Study, Malaysia Tweet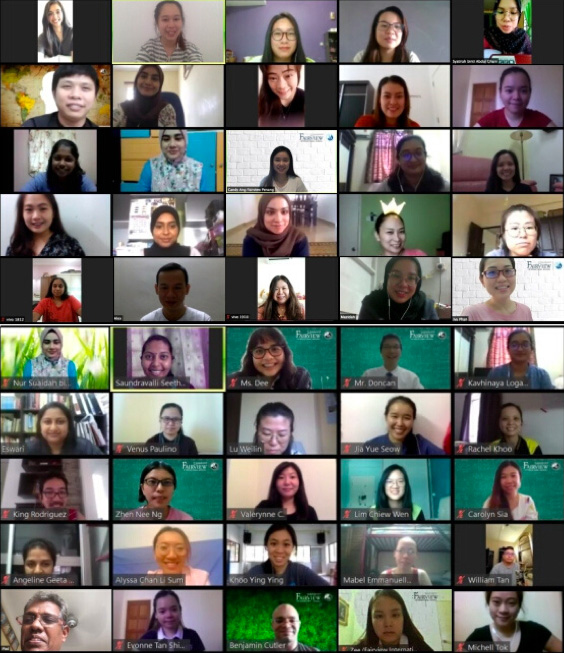 Valerynne Chang, of Fairview Schools, looks at how teachers and schools have risen to the challenge of distance learning...
In January, the world rang in a new decade amid deadly wildfires in Australia, protests in Hong Kong, crisis in the Gulf, nuclear proliferation and many other global problems. Stepping into the second quarter of the year, more catastrophic titles have made newspaper headlines – major exams being cancelled worldwide, recession, panic buying, collapse of healthcare systems, and draconian social restrictions imposed in various countries. I guess it is true when they say, "There are some decades where nothing much happens, and some weeks where decades happen." The thought of what is ahead for the year can be a little daunting as the success or failure of some pivotal events will give birth to watershed moments in history. All of these events reiterate the fact that this invisible virus threat is real and it is making vivid the shortcomings of many essential systems in our society.
What are the impacts and implications on education? The teaching profession continues to thrive throughout any trying times – be it traditional classroom threats, civil wars, a pandemic, or a new crisis. Teaching and learning are expected to go on even though difficulties rise exponentially during prolonged school closures. All stakeholders of a school community need to radically upend their ways of life, from changing daily routines, to how they work, learn, play, and even ways to build relationships, when in-person classes are suspended. In such a tumultuous climate, I wish there is a handbook that can provide the most pragmatic approach and crystal clear guidelines to help teachers navigate their ways through this upheaval, but there is none. In fact, in times like these, teachers are expected to transform overnight into tech experts, who will guide the students and parents through each synchronous lesson and asynchronous task, while holding the fort in the name of distance learning.
How can education give learners a sense of security during these times of great uncertainty? Schools should have a distance learning policy in place. It is essential to have a policy that considers all aspects of teaching and learning, including the wellbeing of all stakeholders based on the context of the school and the profiles of its members. A primary school will have different concerns compared to a tertiary institution, whether it is about screen time, level of learner's independence, or the specificity of instructions that should be sent to complement the homework. The range of learning needs and barriers to education present in its community, namely Internet connectivity, parental support, language proficiency, differing values and family priorities in times of need, are real issues to address when developing the policy. The implementation of a policy will FAIL if its cornerstone is not anchored on practical human factors. Educators and administrators should spend some time to cogitate on the concept of "Maslow before Bloom" – we need to pay attention to the hierarchy of needs before placing an emphasis on educational objectives, in these unprecedented times.
How do we meet teachers where they are and take care of our education front liners? To do this, first, we have to take a look at the amount of pressure placed on teachers to make the paradigm shift. We need to acknowledge that there are teachers in our midst who are novices in this particular context of distance learning; some without the most stable internet connection or data at home; some without the required laptop specifications to run certain applications or software; and some, feeling simply overwhelmed due to the bombardments of articles on pedagogies or free online resources that they have to read independently, select, and then apply accordingly. Schools need to provide a lifeline for teachers to 'survive' this predicament and emerge as champions! For a start, send a care package. Take care of the infrastructure – have the IT peeps lend a device, call upon an edtech team to act as helpdesks, mobilise the librarians to shortlist useful resources and categorise them by subjects and grade levels. Next, ruminate on the support and skills teachers REALLY need and put together comprehensive, tiered crash courses to suit different needs – basic, intermediate, and advanced. Look at what is already available externally; creating every thing from scratch is a good option only when time, expertise, and manpower are commodities at hand.
What should be the realistic expectations of distance learning? Many teachers are in a dilemma, torn between covering the full syllabus as the curriculum requires and giving an adequate balance of physical activity. The inequitable social gaps and loss educational opportunities also add an insurmountable layer of complexity to the existing problems. Some meaningful solutions to this include making coverage shorter, emphasising on the critical contents and replacing busy work with engaging projects, which give importance to the enduring understanding of the units of learning. Teachers can prioritise offering concise instructions to help everyone transition into online teaching and learning; help students set daily goals based on lesson objectives; and organise reasonable deadlines for reviews and feedback. In addition, any IB teacher would also be able to recognise the transdisciplinary, interdisciplinary or disciplinary dimensions of science, language, mathematics, social studies, economics, physical and health education, all within this episode of pandemic and then roll out a relevant, new unit of inquiry! Backward planning by design needs to take the center stage in curriculum planning, to remind educators to begin with the desired results in mind, identify evidence of learning, then craft the virtual instructional plans. Sounds logical, but are schools supporting and monitoring the implementation process to ensure that no child or teacher is left behind?
What else should we fix our eyes on? We are faced with an adaptive challenge, right here, right now. The good news is, we teachers, are at the front lines of the education system and we can turn all the important life lessons that this or any other global crisis has taught us, into daily teachable moments. We can push for real learning to happen by inquiring into topics that matter, creating project-based tasks, promoting intentional conversations and learning engagements designed to help students reflect, consolidate learning, and move toward becoming a more self-regulated learner with enhanced autonomy for their own journey of discovery. We need to embed in our lessons now the skills and adjustments that we foresee our children will have to apply when everything returns to another level of 'normal'. We cannot shortchange education by discussing only the scheme of work but choosing to forego teaching values, principles, and attributes of the IB learner profile in any virtual lesson. We have to be creative in using any pedagogical toolkit and make full use of the power of online education to instill tenacity in our children, to mould them to be compassionate, self-assured, courageous individuals with a great sense of direction and purpose in life.
How much should parents be involved in the process? Interaction with parents may change now that they see what learning at home actually involves. Parents too, are starting on a learning curve. This brand new experience informs us that many are learning how to critique constructively and not criticise ruthlessly in the pursuit of providing the best version of home-based education for the learners. Parents can be vital partners for policy makers to obtain first-hand feedback and assist schools to further enhance the continuity of online learning. Surveys and other telecommunication correspondence are excellent ways to set the stage for both parents and teachers to renew their working relationships with each other, in order to effectively exchange valuable insights about the growth and progress of each child. In return, a new solidarity is forged. One of our missions as educators, is to build on this goodwill, collaborative spirit, and camaraderie to help shape the world that we all seek; even more so, in troubled times like these.
We must not lose infinite hope in the flurry of bad news in the media. The enormous progress made on many fronts, by many schools worldwide, will remind us of what mankind is capable of achieving, and more. In the words of John F. Kennedy, "Our problems are man-made — therefore, they can be solved by man. Man's reason and spirit have often solved the seemingly unsolvable — and we believe they can do it again." In this world, we will have trials and tribulations, but take heart, for these will be overcome. The unfortunate truth is that we need to 'reconfigure' ourselves to build greater resiliency and be better prepared for what is ahead of us. Those who are able to recognise these new challenges now and move quickly to adapt to them will be in the best position to thrive throughout the 2020s. Has your school community developed sufficient grit to get in the ring of 2020 to do battle with life?
About the writer:
Valerynne Chang serves in the IB Building Quality Curriculum Team and is also a (Dr. Lynn Erickson) certified Concept-Based Curriculum and Instruction Presenter and Trainer. Her IB journey started more than a decade ago and she has hands-on experience working through the IB continuum, from teaching and coordinating the PYP and MYP, to exploring the DP. Valerynne is currently the Director of Academics for Fairview Schools, a network of 5 IB world schools in Malaysia and IB candidate schools in Scotland and Indonesia.
Note: The platform of lesson delivery may be different, but the heart of a dedicated teacher will never change. Teachers from Fairview International School have been working tirelessly behind the scenes and also in front of the screens, to bring quality education to their students.