The International School of Penang (Uplands) to hold ​IB Diploma Programme Scholarship & Information Session
Posted on 15th Dec 2021 in School News, International Baccalaureate, Diploma Programme, Scholarships, Malaysia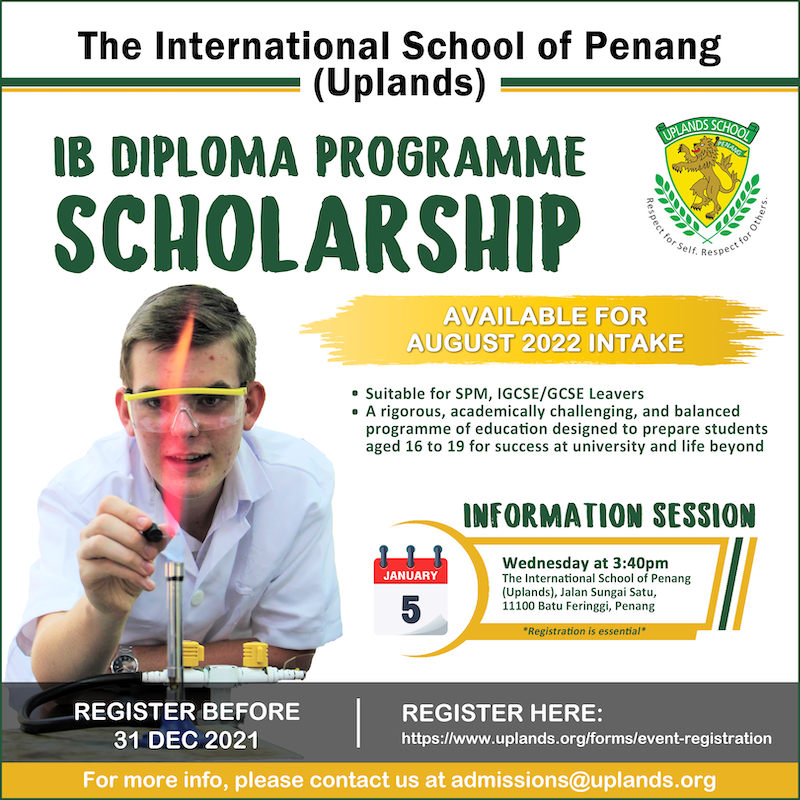 The IB Diploma Programme is renowned globally as the most highly esteemed pre-university program for students ages 16-19. It is also the only curriculum offering the skills our students need for the twenty-first century. The International School of Penang (Uplands) is proud to be the only school providing this prestigious programme in all of Penang. Do you want to be ready for the dynamic world of the future, poised for success in the global marketplace?
To find out more, attend our IB Diploma Programme Information Session, details as below:
Date/Day: 5th January 2022 (Wednesday)
Time: 3:40pm
Venue: The International School of Penang (Uplands), Jalan Sungai Satu, 11100 Batu Feringgi, Penang.
**Registration is essential and attendees must be fully vaccinated (completed 2 doses of vaccination).
**Please register to book a slot to find out more about the IB Diploma Programme and scholarship opportunities for the August 2022 intake.
Register here: https://www.uplands.org/forms/event-registration
Scholarship
The IB Diploma Programme Scholarship at Uplands will provide up to 6 students with the opportunity to gain these key skills and ensure entrance to their universities of choice. Uplands is the only school in Penang offering this prestigious programme. The value of the Scholarship offered on tuition costs will be determined on an individual basis and will be discussed with the individual applicant during the selection process. We have a maximum of 3 internal and 3 external Scholarships to offer students.
Uplands IB Diploma Programme Scholarship Application for August 2022 intake is now open.
Apply before 28 January 2022 for the scholarship.
Scholarship information can be found at https://www.uplands.org/scholarships/