The Memory Project 2021 – Creating Portraits for Intercultural Understanding and Kindness
Posted on 21st Jun 2021 in School News, United Arab Emirates Tweet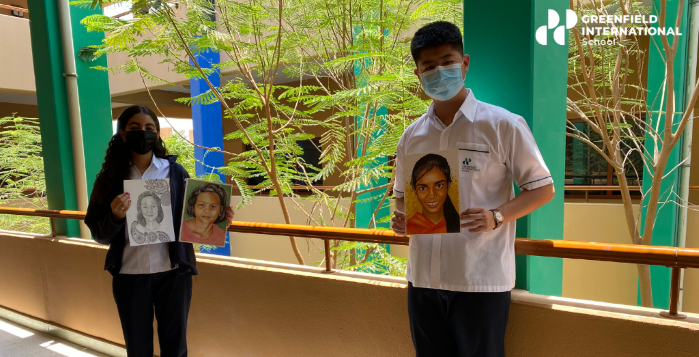 Art students at Greenfield International School have joined the Memory Project, a charitable non-profit organisation that invites art teachers and their students to create and donate portraits to youth around the world who have faced adversity and challenges, such as neglect, abuse, loss of parents, violence, and extreme poverty. This project reflects the true nature of the International Baccalaureate by making the world a better place through empathy, compassion and understanding.
The purpose of creating the portraits is to help the children feel valued and important, to know that many people care about their wellbeing, and to provide them with a gift that will serve as a reminder of their childhood. By undertaking this project, it has provided our students with the unique opportunity to creatively practice kindness and global awareness. It is hoped the portraits will serve as meaningful mementos of their childhood.
This year, students at GIS have created portraits for children in India. In this time of global crisis, the portraits are even more meaningful as India continues to suffer from the pain and devastation caused by Covid19. The portraits that our students have created for these children will serve as a poignant reminder of each child's strength and resilience; it will show them that someone living in a different country cares about the challenges that they are facing.
The portraits will now be sent to India, and we will receive a film in due course, of ecstatic and overjoyed children receiving what, for many, will be the only gift they will ever see. We hope to continue with The Memory Project again next year. Working on such meaningful project has been invaluable and given our students such a great chance to cultivate kindness on a whole new level.
Ms Vasavi Koka,
GIS Art Teacher